---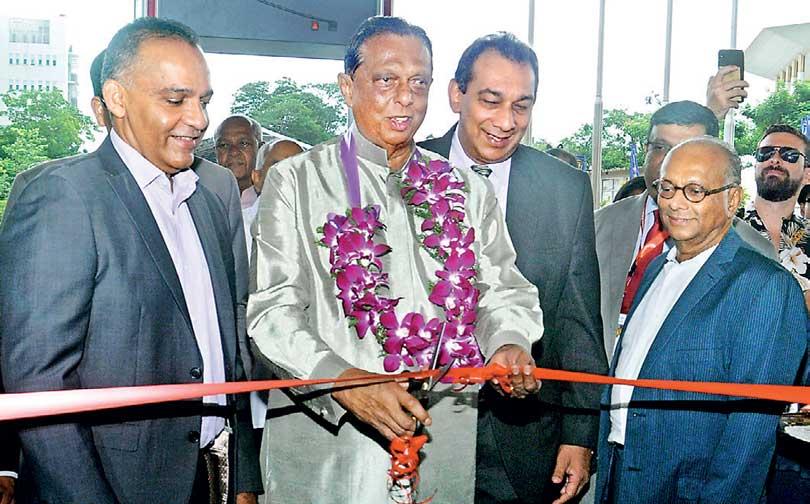 Tourism Development, Wildlife and Christian Religious Affairs Minister John Amaratunga cutting the ribbon to launch the Sancharaka Udawa 2019 in the presence of SLAITO President Harith Perera and Tourism Development, Wildlife and Christian Religious Affairs State Minister Ranjith Aluvihare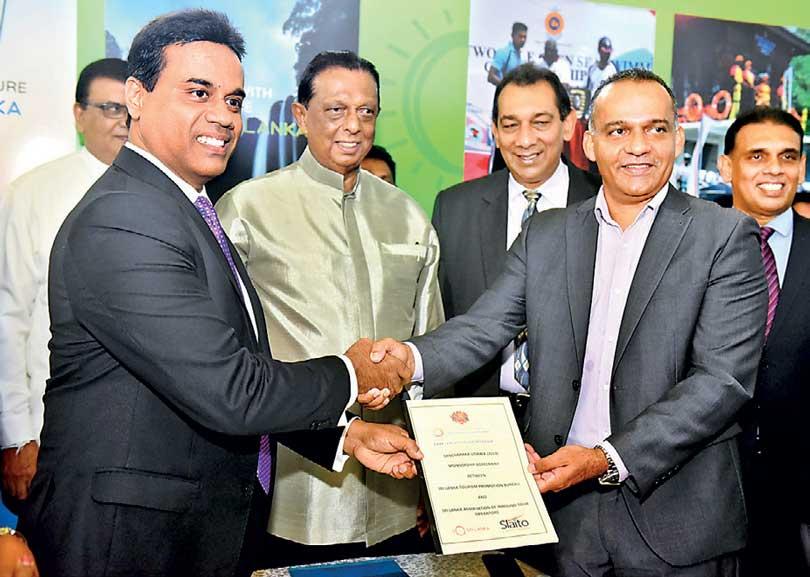 SLTPB Chairman Kishu Gomes and SLAITO President Harith Perera sign the sponsorship agreement between SLTPB and SLAITO
Pix by Kithsiri De Mel
By Harshana Sellahewa
The ninth edition of Sancharaka Udawa, Sri Lanka's premier travel and tourism fair was inaugurated yesterday at the BMICH, Colombo.

This two-day fair will be open to the public on June 21 and 22, and is expected to haul in a wide array of travel and tourism officials and industry operators.

Sancharaka Udawa is organised by Sri Lanka Association of Inbound Tour Operators (SLAITO), with endorsement from the Ministry of Foreign Affairs, and this year the main sponsor was Sri Lanka Tourism Promotion Bureau (SLTPB), as at the launch event, participants witnessed the signing of a landmark partnership agreement between SLTPB Chairman Kishu Gomes and SLAITO President Harith Perera.

Chief guest at the event, Tourism Development, Wildlife and Christian Religious Affairs Minister John Amaratunga cut the ribbon to officially open the fair to the public.

The occasion was also graced by Tourism Development, Wildlife and Christian Religious Affairs State Minister Ranjith Aluvihare, SLAITO President Harith Perera, SLTPB Chairman Kishu Gomes, Sri Lanka Tourism Development Authority (SLTDA) Chairman Johanna Jayaratne and Sancharaka Udawa 2019 Chairman Nishad Wijetunga among other distinguished invitees and guests.

Tourism Development, Wildlife and Christian Religious Affairs Minister John Amaratunga endorsed the travel and tourism fair and said that Sri Lanka has been recovering at a rapid pace after the unfortunate Easter terror attacks.
Although there was a decline in tourism arrivals which was impacted by travel advisories and a possible risk for more attacks, he assured that the government is confident of the security measures enforced by the State intelligence and other State departments.

This year's exhibition leads the way to addressing some of the biggest challenges facing the travel and tourism industry in the country. Sancharaka Udawa offers a vital platform for B2B and B2C sectors, while providing opportunities for players in the industry to engage with related government authorities for mutual benefit.

Stalls for tourism related government departments such as the Department of Wildlife Conservation, Tourist Police, Central Cultural Fund and other such organisations were provided free-of-charge to build a rapport between these organisations and the industry.

Another special feature of this event was that several universities such as Colombo, Uvawellassa, Kelaniya, Sabaragamuwa and Rajarata were provided stalls free-of-charge in order to encourage students studying tourism an opportunity to interact with trade officials.

The ambition of Sancharaka Udawa is to find and recognise large, medium and small scale entrepreneurs engaging in tourism businesses and organisations which are helping to reduce the negative impacts of the recent incidents and increasing the positive vibes within the industry," said Sancharaka Udawa 2019 Chairman Nishad Wijetunga.

"Recognition is important for those who are making a difference, and through this event and the awards ceremony, we seek to inform, educate, inspire and challenge others to step up and get involved; do more to make to urism better for travellers to visit," he added.