---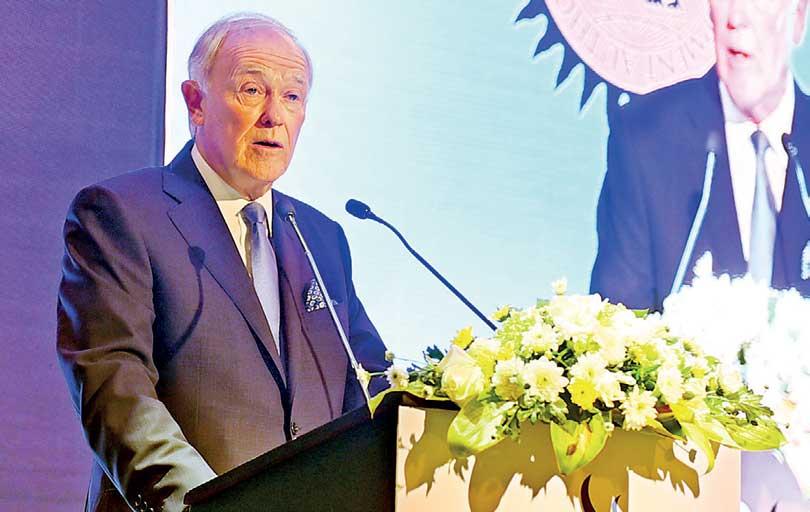 Sir Tim Clark
Pic by Manoj Ratnayaka
Says Sri Lanka is an amazing treasure trove for tourism
Shares insights from Dubai's success story as a tourism powerhouse
Points out Dubai's success was not an accident but a well-planned one
Asks authorities to smoothen visa process to boost tourism
Stresses need for right tourism product and incentivizing industry investments
Advises to align national carrier's business plan with tourism strategy
Urges need for comprehensive PR and marketing campaign
By Indika Sakalasooriya
Showing his fondness for Sri Lanka in abundance by declaring the island nation his second home, Emirates President Sir Tim Clark this week advised Sri Lankan policy makers to "think big and think bold," to drive the country's tourism industry forward.

Drawing insights from the Dubai's success story as a major tourism hotspot in the world, Clark stressed that present Dubai was not an accident but the result of a well-planned and executed vision of the leaders of that country, which hardly had the necessary key ingredients to become a major tourism force in the world.

"I want to say up front, you are sitting on a treasure trove. Sri Lanka is an amazing treasure trove for tourism," Clark told a full house of Sri Lanka's tourism and aviation sector leaders, who attended the 54th Anniversary AGM of The Tourist Hotels Association of Sri Lanka (THASL) in Colombo on Wednesday.
"You're probably one of the few final bastions in this region when it comes to unspoiled island nation destinations. You have lush emerald peaks, spectacular waterfalls in the hill country, miles of beautiful beaches, tea plantations, nature parks, colonial buildings, cuisine, culture, religious attractions and to top it all, you have a naturally hospitable people; that is so important because so many other countries in the world don't have that.

When Dubai embarked on its journey to become a global city and a destination, it had little or none of these advantages. A stretch of beach, a historical trading route around the Dubai Creek, and sand dunes, but that's about it.

Now look at Dubai today. The city has built a global destination, and a global name for itself, more or less, out of nothing, except a bold vision, a strong belief in its destiny, and plenty of sheer grit to mobilize everything it had at his disposal. Dubai didn't have natural attractions and infrastructure systems, policies and so on. What it didn't have it created," Clark said. Sharing further insights, he said the public and private sector in Dubai work symbiotically and hand in hand towards clear and shared goals.

"Dubai's transformation wasn't an accident. It was a very much planned and was driven by the country's leaders. They were serious about building a tourism industry, and they were not afraid to think big and think bold."

Clark queried from the audience present that consisted of Prime Minister Ranil Wickremesinghe and Economic Reforms and Public Distribution Non-Cabinet Minister Dr.Harsha de Silva, how serious were they in the global competition for tourism dollars.

"What is the appetite for big thinking and bold moves? Let's start with visas. We all know visa restrictions are a mental hurdle for many people when it comes to travel choices. It's a hassle we all could do without…What if Sri Lanka could throw open its doors and become the world's most welcoming nation on the planet?"

Clark proposed to the Lankan policy makers to opt for innovative ways to address security concerns stemming from such a scenario through employing bio-metric technology and other similar technologies at the airport.

He said the free-visa programme announced by the government in August for tourists form the EU and other selected countries is neither ground-breaking nor a stand-out initiative in the global tourism market, though it was a positive step towards the right direction.

Clark urged Sri Lankan authorities to take cues from the 'Malaysia Second Home' programme, promoted by the Malaysian Tourism Authority and the Immigration Department, which let foreigners to stay in Malaysia for a period of 10 years, if they met certain criteria.

The programme allows foreigners to buy property, work part time, and bring their income made in their home country to Malaysia tax-free. He said already 40, 000-50, 000 have enrolled in the programme.

"I'm not saying that Sri Lanka should replicate Malaysia Second Home scheme. But don't throw the idea out. Just think about it. The spirit of the programme—reducing or removing visa barriers to attract visitors— is great."Apart from smoothening out the visa process, Clark said developing the right tourism product, supporting local operators and incentivizing investments for the tourism industry are key for Sri Lanka to become a tourism powerhouse.

He also urged the authorities properly define the role of the national carrier in developing the tourism industry by aligning its business model with the country's tourism goals. "Even if flag carriers are rather an antiquated concept, there are advantages of having a home-based airline that can support the national tourism strategy and can be profitable at the same time."
Further, he insisted Sri Lanka to make use of its geographical location and the maritime infrastructure to aggressively promote cruise tourism. The Cruise Line Industry Association has estimated that over 40 million people will travel on cruise by 2023 compared to 26 million in 2017. In terms of developing the right tourism product, Clark said Sri Lanka should focus on Generation Z, who are socially and environmentally-conscious, and active silver travellers who generally are high-spenders.

Meanwhile, spelling out a much emphasized home truth, Clark highlighted the need for a comprehensive PR and marketing strategy to promote Sri Lanka's tourism product and its image. The country's tourism authorities have so far failed to carry out a global PR and marketing campaign despite having the required funds due to excessive bureaucracy. "Right now more than ever Sri Lanka could do with a masterfully orchestrated PR and marketing exercise in the global stage. Without marketing no one is going to know all the wonderful things happening here.

"You need to recapture the imagination of the travellers; grow your reputation as a tourism powerhouse. Sri Lanka has a plenty of marketing material. What's required is a good story; one that stands out and one that sticks," Clark said.

He advised the tourism authorities to forget old-fashioned trade shows and look at innovative ways to tell Sri Lanka's story in the digital age while considering the use global celebrities to create a global impact if necessary.

"Sri Lanka has so much to offer. But you got to believe in your potential and in your product," he concluded.