---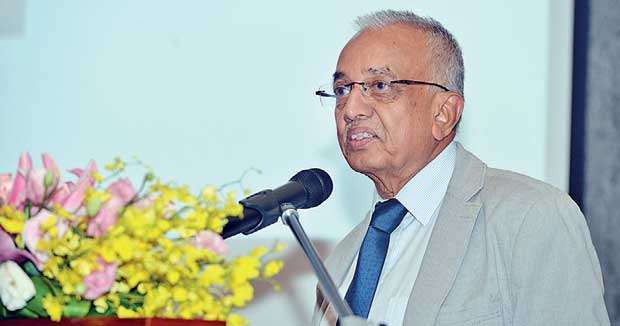 Development Strategies and International Trade Minister Malik Samarawickrama.
Pic by Daminda Harsha Perera
Says government's success in rebalancing diplomatic relations has big economic implications

Balancing diplomatic relations and being open to all countries for investment has been a key achievement of the current government, remarked Development Strategies and International Trade Minister Malik Samarawickrama at a forum in Colombo yesterday.

"It is easy to disregard how important this is. It's not something the Sri Lankan private sector can see and touch. It's not visible like infrastructure and you can't put it on a billboard, but it has big implications for our national interests and our economic stability," he remarked.

Samarawickrama made these remarks at a meeting of diplomats from Asian countries and the Sri Lankan corporate sector, organized by the Ceylon Chamber of Commerce.

"When our government was elected in 2015, Sri Lanka had difficult relationships with many countries. Our foreign policy was skewed. Some relationships we had strained, and others neglected. It was important for our country that we balance our relationships well; that we renew old ties and pursue new partnerships. And this is what we have managed to do over the past three years".

Samarawickrama went on to set out three key reasons why Asian investors would find Sri Lanka a compelling destination for business i.e. the new untapped opportunities available; Sri Lanka's friendly ties with all Asian countries and the openness to partner with all of them without preference; and the country being an ideal springboard to the growing markets of South Asia and Africa given our unique location placed in the Indian Ocean and on the Western edge of Asia.

"There is a lot of untapped potential and many green field opportunities, at a time competition is fierce in other Asian economies – be it for resources or opportunities. Sri Lanka offers Asian investors the chance to be at the frontier of new things, and expand their business opportunities.

"Secondly, Sri Lanka is unique in this region for having very good diplomatic ties with all countries in Asia. Unlike several Asian countries that hold various tensions with others in the region – either disputes stemming from past conflict, or territorial or border disputes – Sri Lanka does not have such issues with Asian countries.
"Therefore, we provide a unique platform to any investor from any Asian country to come here and feel welcome. We have no preferred Asian partners. All of Asia is our partner, and all Asian countries are important to us.

"Thirdly, Sri Lanka is an excellent springboard to other nearby regions, which are emerging growth hubs. Already, we hear of several Japanese investors who see Sri Lanka as a useful springboard to Africa, to Europe, and to South Asia. Similarly, many other East Asian countries find us a useful gateway to the large and growing South Asian market. Sri Lanka is uniquely placed on the Western edge of Asia, as well as in the centre of the Indian Ocean. This geography offers very unique opportunities to investors from East and South East Asia," said Samarawickrama.