---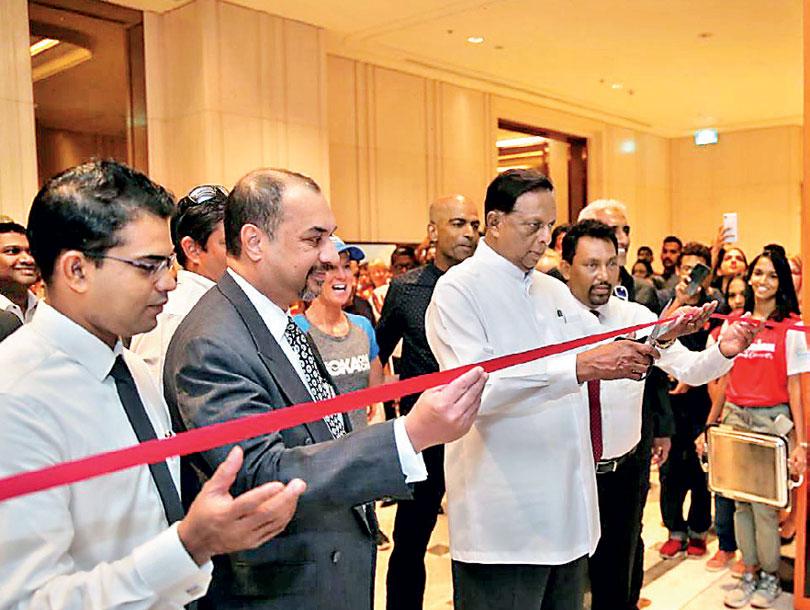 Expo officially opened by Minister of Tourism Development, Wildlife & Christian Religious Affairs, John Amaratunga
The much anticipated So Sri Lanka IRONMAN 70.3 Colombo Expo will showcase a range of health and wellness products from across the world, and is held from February 21st to the 24th, at the Shangri-La Hotel Colombo, Lotus Ballroom.

The timings for the Expo would be Thursday and Friday from 10 a.m. to 7 p.m. and on Saturday and Sunday from 10 a.m. till 4 p.m. It will be the meeting point of 3,000 athletes,
well-wishers and spectators while it will house the registration, message boards and presentations for So Sri Lanka IRONMAN 70.3 Colombo which is scheduled to start at 6.15 a.m. on Sunday, February 24th.

The IRONMAN Colombo Expo was officially opened by Minister of Tourism Development, Wildlife & Christian Religious Affairs, John Amaratunga. Stalls presents include Infinity Vacations, MAS, Emerging Media, Advantis, 24/7 Shop, Garmin, Adidas, Glory Sports, Triathlon Club Colombo (TCC), Pro-Am Serendib, Halyleys Travels, JF Carat, Spinner, SIS, Nizam Cycle Store, Giant Bikes, Sanathanathan Bathik and Lumala. All stalls will be giving visitors to the So IRONMAN 70.3 Colombo Expo special offers and discounts.

The IRONMAN Expo will also be the registration point for So Sri Lanka IRONMAN 70.3 Colombo and IRONKIDS. The event expected to attract 3,000 plus peopleof high yielding sports travellers and local sports enthusiasts along with their families and friends and in turn make Sri Lanka as a destination of choice to compete and travel while also giving them a uniquely Sri Lankan experience.

So Sri Lanka IRONMAN 70.3 Colombo is organised by Pro Am Serendib, the title sponsor of the event is Sri Lanka Tourism Promotions Bureau. Partner organizations include Shangri-La Colombo, MAS, Sri Lankan Airlines, Ceylinco, MTV/MBC Group, Hayleys Tours, Advantis, Asiri, Daily Mirror, Daily FT, Sunday Times, Lankadeepa, Ada, Tamil Mirror and Hi, SIS, Kantra LMRB, Emerging Media, Rotaract, Strategy, Honda, RedBull, Inspire X, Bernard's, Rainbow, Spinners, the Triathlon Club Colombo and 230i.
caption