---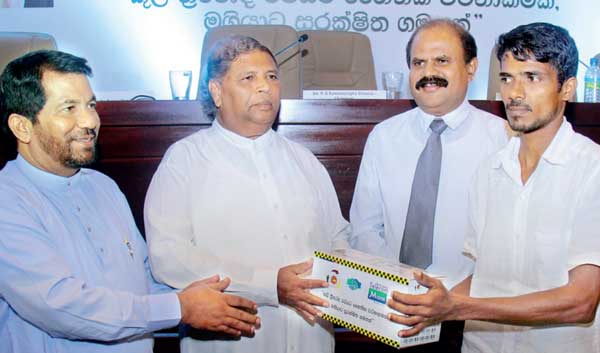 Western Provincial Minister of Education, Culture and Arts, Sports and Youth Affairs and Information Technology Ranjith Somawansa, Western Provincial Minister of Fisheries, Road Development, Transport, Co-operative Development & Trade, Housing & Construction, Estate Infrastructure Development, Industries & Rural Development Lalith Wanigarathne and Sri Lanka Telecom and Mobitel Chairman P. G. Kumarasingha Sirisena giving out taxi meters to three wheel owners.
The National Mobile Service Provider SLT Mobitel recently partnered with Western Province Provincial Road Passenger Transport Authority (WPPRPT) to provide three-wheel owners a taxi meter on a special and affordable payment plan.

This is an exclusive partnership between SLT Mobitel and WPPRPT to provide this service towards
three-wheel owners.

SLT Mobitel will act as the Official Mobile Connectivity Partner for this initiative by providing three-wheel owners a daily payment plan. The taxi meter easy payment plan is the first of its kind provided by the operator to this segment.
The main objective of this scheme is to support three-wheel owners in providing an efficient service towards their customers in a competitive environment. The special scheme offers an enhanced, quality-driven service to commuters, who will be charged a specific and accurate fee depending on the hire. With SLT Mobitel's new service, three-wheel drivers can settle payments for the taxi meter device through a daily installment plan which could bepaid through their mobile phone.

The project will initially be deployed in the Western Province and future plans include expanding the service island wide to bring further convenience to all three-wheel drivers, and to enable them to secure a more reasonable and specific daily income.

The main objective of the service is emphasizing on the importance of modern technology and the added convenience of its usage in our day-to- day lives.The project breaks the barrier of having to make an upfront payment toward the Taxi Meter and introduce aneasy and convenient daily payment plan which does not affect the lifestyle of the three-wheel owners.