---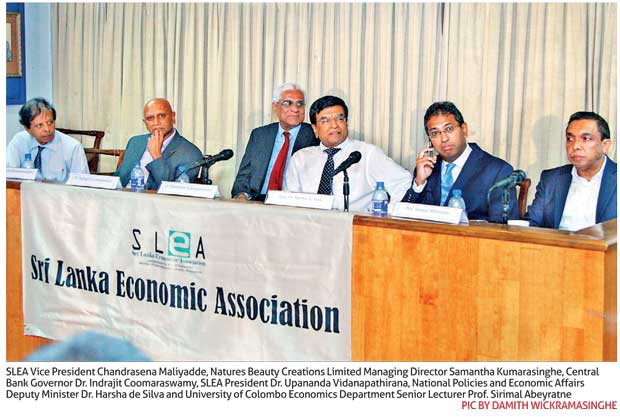 By Chandeepa Wettasinghe
Emotions ran high at the seminar on 'Sri Lankan Economy: Future Policy Direction' organised by the Sri Lanka Economic Association (SLEA), with those of differing political economic leanings finding it difficult to find common ground.

Signs of trouble were in the air when Natures Beauty Creations Limited Managing Director Samantha Kumarasinghe declared at the start of his speech: "Does the government listen to the private sector? From 2005 to 2014 yes, to some extent. Today, they pretend to listen but go and do the opposite."

Kumarasinghe's speech went on to outline a textbook mercantilist thinking, which was of valuable currency during the previous regime, which sought massive rent in exchange for making Sri Lanka one of the most protected countries in the world.

The recent budget of the present government has pledged to liberalize the economy from its protectionist shackles.

To fit into the writings of classical French economist Frederic Bastiat, Kumarasinghe was in effect the candlemaker, asking the government to force people to board up windows, any cracks and openings from a house to the outside world, in order to drive out the competition of sunlight to increase candle sales.

University of Colombo Economics Department Senior Lecturer Prof. Sirimal Abeyratne in his review of Kumarasinghe's speech attempted to talk some sense into Kumarasinghe on the downsides of protectionism and how Kumarasinghe had benefitted from exporting to liberal markets such as the US and EU and Prof. Abeyratne questioned why citizens of Sri Lanka shouldn't enjoy similar benefits.

Kumarasinghe, while calling for protection of local manufacturers, had opened a production facility in Vietnam to take advantage of the Southeast Asian nation's policies, which were more liberal than Sri Lanka's.

His arguments at times abused statistics, at times compared macroeconomic variables in dubious manners and at times completely ignored the role of macroeconomic fundamentals such as inflation in determining monetary policy regimes; blunders were called out by the members of the panel and audience, although he did admit that he was not an economist and he may be wrong.

His speech followed after the more orthodox economic policy paths were outlined by eminent economists; Central Bank Governor Dr. Indrajit Coomaraswamy and National Policies and Economic Affairs Deputy Minister Dr. Harsha de Silva.
Dr. de Silva was visibly irked with Kumarasinghe's remarks and could be seen animatedly engaging in conversation with Dr. Coomaraswamy whenever Kumarasinghe made an odd or overly political statement.

Dr. de Silva admitted that several remarks from the audience as well as fellow panellist Dr. Coomaraswamy on the trust and policy execution deficit of the government were true to some extent.

"It takes time to build trust and I said that I will deliver. I have delivered some. I was elected in August 2015. So we can't undo in less than 30 months what was done over 120 months," he said. However, on the more political statements and accusations made by Kumarasinghe and members of the audience, Dr. de Silva was less agreeable.

"I came here for a technical, intellectual discussion on the way forward. This is not a political platform. But if you want, I too can be political," he said.

He outlined how no one could raise their voices or protest during the past regime, for fear of getting shot or getting kidnapped in white vans by death squads.
SLEA President Dr. Upananda Vidanapathirana, in an attempt to diffuse the situation, intervened and said that the SLEA has never been a platform for making political statements. Towards the latter part of the event, Kumarasinghe multiple times said that he had not made a political speech.

Prof. Sirimevan Colombage, who was in the audience, reminded that this turn of events was perhaps, inevitable.

"We are in a political economy. Sometimes, people forget the politics," he said. In fact, the World Economic Forum and renowned economists such as Prof. Dani Rodrik and Nobel Prize winner Prof. Richard Thaler, just to name a few, have attempted to restart the conversation that economists are ignoring its other social science cousins and are attempting to create laboratory environments in a 'physics envy', which may diminish the potential of economics.