---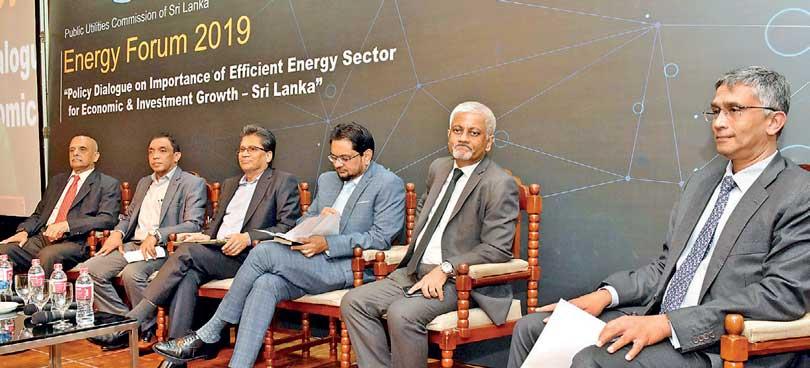 From left: Former Central Electricity Regulatory Commission of India Chairman Dr. Pramod Deo India, University of Colombo Senior Prof. Sirimal Abeyratne, Board of Investment Chairman Mangala Yapa, Verite Research Executive Director and Research Head Dr. Nishan de Mel, ICTA Chairman Prof. Rohan Samarajiva and former Petroleum Resources Development Secretariat Director General and independent energy analyst Saliya Wickramasuriya
Pic by Nimalasiri Edirisinghe
Experts blame outdated "plan to fail" approach for energy sector crisis
Point out planning to fail is a great way to justify emergency power
Say another power crisis likely to materialise in 2023
Quip even emergency power suppliers surprised at regular recurrence of blackouts
Urge policy planner to use PESTEL analysis for future energy sector planning

By Nishel Fernando
As the authorities continue to practice the "plan to fail" approach based on outdated planning models incentivised by emergency power purchases, experts and academics warn another power crisis could materialise in 2023, unless Sri Lanka's energy sector shifts to modern-day implementable planning models.

"Planning to fail is a great way to justify emergency power. But then a regulator has to authorise emergency power and create a moral hazard because this contract incentivises to plan to fail and to justify emergency power.

When you set in motion a plan that is going to fail and keep making the same plans leading to same failure, we pay the consequences. It's similar to bailing out banks that could bankrupt again and again," Verite Research Executive Director and Research Head Dr. Nishan de Mel said.

He shared these remarks speaking at Energy Forum – 2019, organised by the energy sector regulator, the Public Utilities Commission of Sri Lanka, in Colombo, last Thursday.
Since the initial power crisis in 1990s, Dr. de Mel pointed out that Sri Lanka is still relying on emergency power, although low-income nations such as Senegal was able to overcome from such power blackouts within less than five years, while bringing down electricity prices. He quipped that even the emergency power suppliers, who profit by supplying emergency power, are amazed at recurrent blackouts in Sri Lanka.

"The people who are profiting from this tell me that it looks like Sri Lanka has a system that sabotages power development," he said.

Meanwhile, joining the panel discussion, Information and Communication Technology Agency (ICTA) Chairman Prof. Rohan Samarajiva recalled that in 2016, he and several other experts warned the government of a potential power crisis in 2018. The government was forced to procure electricity from the private sector at a high cost early this year, due to power shortages.
Speaking of the national energy policy 2019, Prof. Samarajiva called the policy document is fundamentally flawed and it could jeopardise Sri Lanka's future with further potential power crises.

"The 2019 policy says that the next fuel in black and white terms will be LNG. This is the tragedy. Even within this same document, there are three mentions of coal. If the next fuel is LNG, why are we talking about coal? Is it kind of a schizophrenia document where one part of the document doesn't know what the other part has?" he noted. As the government halted the proposed Sampur coal power plant and other proposed coal plants while recognising LNG as the low-cost-based power source, he questioned as to why the government is planning further coal power plants.

"So, coal is going to be put on the table now. Why on earth didn't we go ahead with coal when we could do coal? Then we would have been able to avoid blackouts that we had earlier this year," he added.

The Cabinet of Ministers recently approved a proposal to award the contract for a 300MW extension to the Norochcholai coal power plant to China Machinery Engineering Corporation.
Dr. de Mel expressed doubts on materialisation of any further planned coal power plants in the country.

"Let me create a hypothetical situation, which is mostly factually correct. Suppose that there are only three places in the country to build coal power plant stations – Norochcholai, Sampur or in Hambantota.

Whatever, you agree on the technology, the people, society and churches in Norochcholai will never allow another coal power plant there. You merely need to visit Norochcholai to see the level of pollution, health consequences and calamity that society is experiencing there. We have just come out of a war. Sampur is off the table for sure. The consequences of trying to build a coal power plant in Sampur are a conflict of another magnitude that we cannot politically or socially sustain. Which political leaders are going to allow a coal plant in Hambantota?" he questioned.

Dr. de Mel stressed that Sri Lanka needs to revamp its planning practices from the current outdated stone-age planning system to modern-day planning that utilises PESTEL (political, economic, social, technological, environmental and legal) analysis for successful implementation, focusing on the cost of outcome, rather than the output.

"We misunderstand the problem of planning. We think planning is simply an act of getting the technology mix right but that's not planning and that's very outdated stone-age planning.
We need to revamp planning, make it a modern and sensible planning activity. When planning is done with PESTEL analysis, it is also about impenetrability.

The planning done in Sri Lanka today is simply financial, not even economic. The cost of pollution and other costs enter into society through the use of technology is not planned. For example, there is no demand elasticity-based estimation on how demand will grow, which means we are not undertaking real economic planning either," he noted.

The government has set a target to become an energy self-sufficient nation by 2030 by increasing power generation by around 70 percent to 6,900 MW by 2025, from the current installed capacity in the medium term. However, most of the proposed power plants are yet to be commissioned, in particular the LNG power plants.
The country has also set a target to generate 50 percent of electricity from renewable energy by 2030.