---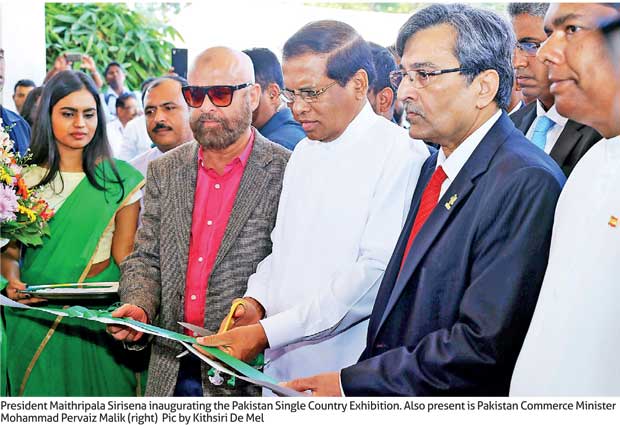 By Harshana Sellahewa
The Pakistan Single Country Exhibition 2018, organised by Trade Development Authority of Pakistan (TDAP) in association with the High Commission of Pakistan in Sri Lanka, kicked off its third edition of the event at the BMICH yesterday.

The launch event was graced by President Maithripala Sirisena as the chief guest, Pakistan Commerce Minister Mohammad Pervaiz Malik and High Commissioner of Pakistan in Sri Lanka Dr. Shahid Ahmad Hashmat.

Speaking at the launch, High Commissioner of Pakistan in Sri Lanka Dr. Shahid Ahmad Hashmat stated: "Two years ago we launched this event and we are determined to make it an annual feature in Colombo, because we feel that this event can act as a catalyst for achieving deeper cooperation between Pakistan and Sri Lanka.
This exhibition is aimed at promoting and strengthening the Sri Lanka-Pakistan business interests." "This event also facilitates business-to-business interaction between businessmen of two trading countries," Dr. Hashmat further stated. Having more than 130 stalls, the exhibition aims to provide a platform to the Pakistani companies for showcasing their range of products and services to the Sri Lankan public and business community.

The exhibition contributes to promote Pakistan-Sri Lanka economic relations by diversifying the existing trade patterns, hence introducing a wide range of quality Pakistani products in the Sri Lankan market with prominent business and trade sectors.

The exhibition has allowed leading Pakistani organisations and manufacturers of engineering products, auto parts, agro products, textile and clothing, designer wear, handicraft and traditional textiles, cosmetics and herbal products, pharmaceuticals, cutlery, gems and jewellery, furniture, carpets, marble and services to mark their presence and enhance trading relations between the two nations to new heights.