---
Says govt. laid ground for economic take off to become an advanced economy
Pledges multi-billion dollar trade adjustment facility for local businesses
Says economy recovered much faster post Easter Sunday attacks
Stresses the economy has to be fully export-oriented next five years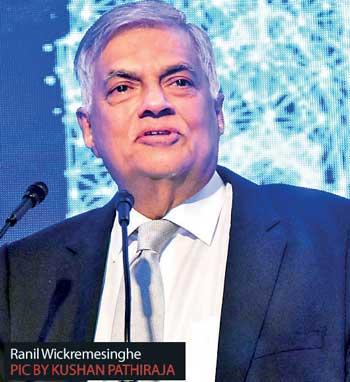 By Nishel Fernando
While insisting that the government has successfully stabilised Sri Lanka's economy overcoming a debt crisis over last five years, Prime Minister Ranil Wickremesinghe asserted it is now up to the private sector to decide whether the economy has to stagnate in the middle income trap or to have a leapfrog trajectory and become the first advanced economy of South Asia.
"We are now an upper middle income country. We have two options: either we have to stagnate in the middle income trap or have a leapfrog trajectory which will make us an advanced economy," Wickremesinghe said.

He made these remarks delivering the keynote speech at Sri Lanka Economic Summit 2019 themed " Re-calibrating Sri Lanka's Economic Trajectory towards 2025" organised by the Ceylon Chamber of Commerce (CCC) in Colombo yesterday.

The Premier stressed despite a politically challenging environment, the government was able to lay the foundation for an economic take off.

"We were in an unhappy marriage; nevertheless we were able to deliver the results. That is the truth. Now, we have to make a clean break, and that's where your support is required.

"I always say that there has to be leapfrog trajectory. You can't do everything in 5 years, but we prepared the ground," he stressed.

Although, the private sector and the public lost confidence in the government following the Easter Sunday attacks, he emphasised that economy recovered much faster indicating economic resilience.
"The test came with the Easter Sunday attacks. You all lost confidence in the government, and you told us that we should go home. However, In the meantime, we at least got the economy picking up again. By August-September, the economy started to pick up. People are surprised to hear that the tourist industry will pick up by November," he noted.

Wickremesinghe underscored that bilateral and multilateral free trade agreements are crucial for Sri Lanka to become a high income country while assuring that the government will support local industries to upgrade and expand their ventures via trade adjustment packages.

"We are looking at FTAs with Malaysia, Indonesia, China and Thailand, and possibly with Japan as well. If The Regional Comprehensive Economic Partnership (RCEP) comes up, we should joint it as well.

"Our commitment is to promote trade adjustment packages, so that you can upgrade and expand your ventures. This has to be done. We are living in the Sri Lankan business economy, where you don't always have the necessary equity," he elaborated.

The Prime Minister vowed that a multi-billion dollar trade adjustment facility will be made available for export firms to draw out funds for expansions and upgrades, which would enable them to become large players in the global arena.

He also highlighted the necessity of an economic management system suited for a higher middle income country.

"We need to have a fiscal policy that contains debt. We shall not allow it to increase. The government machinery has to be restructured. Our treasury has to be like the treasury of New Zealand.

"For the next five years, the economy has to be fully export-oriented and the government policies must ensure it's a private sector- led growth focusing on tradable goods.

"There should be much larger space for investors; our business climate has to improve. We must have policies to boost private investments and productivity," he added.