---
By Nishel Fernando
Sweden-based leading enterprise software solution provider, IFS, is poised to increase its workforce by 23 percent in Sri Lanka this year as the firm is shifting a large chunk of its overseas support functions to Sri Lanka, betting on the country's "cost effective and innovative" talent pool.

"We had the competency not only to grow organically, but also to grow inorganically by shifting large components of work we had typically done within the countries. For an example, we provided our global support offering to customers within their countries; if you are a UK customer, you would get the support from somebody in UK.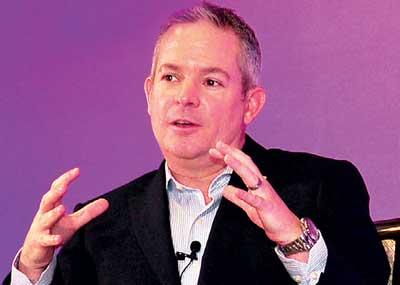 "However, we are now in the process of shifting large chunks of those capabilities to Sri Lanka, hence we are seeing significant, what I call, inorganic growth," IFS CEO Darren Roos revealed yesterday during a discussion in Colombo.

IFS Sri Lankan office plans to recruit 300 more local tech graduates increasing its workforce to 1, 600 employees in Sri Lanka.

Roos said IFS leased a 1, 200-seater office space at Orion City to deploy the new staff as well as to shift some of its existing staff from June,
this year.
IFS, which specialises in Enterprise Resource Planning (ERP), Enterprise Asset Management (EAM) and Field Service Management (FSM), has been operating in Sri Lanka since 1997 and is among top ICT firms in the country.

Roos emphasised that Sri Lanka is a core part of IFS' growth strategy in coming years to reach a compound annual growth rate (CAGR) of 45 percent by 2021.
He cited innovativeness and high productivity in Sri Lanka's ICT sector as key reasons for increasing IFS' investments in Sri Lanka.

"There are places that we can go which are cheaper. For me, coming to Sri Lanka is about getting the right balance between cost effective environment and innovation.

"If I moved to Sri Lanka by cutting down 100 employees in Europe, I don't have to hire 300 people to do the same work. I want to be able to hire 100 people to do the work. That's really the great balance that we have in Sri Lanka

"We don't see Sri Lanka as a low-cost destination, but we see it as an innovation hub," Roos elaborated.

IFS has heavily invested in Sri Lanka for its research and development activities (R&D). Currently, around 60 percent of the firm's product development takes place in Sri Lanka.

Further, about 80 percent of IFS Labs team is based in Sri Lanka. The local Labs team is currently focusing on developments in areas such as wearables, augmented reality, bots, drones, robotic process automation and artificial intelligence.

"By doing this, the company seeks to prototype the emerging technologies, trends and concepts of today which customers will ask tomorrow," a company official said.

IFS invested nearly 14 percent of its revenue in R&D, last year.

IFS net revenue totalled to US $ 606 million last year indicating a year-on-year increase of 23 percent.

The company expect a major portion of this year's growth to come from product offerings such as IFS Aerospace & Defence, IFS Field Service Management and IFS Applications.

Currently, Europe remains as the largest market for IFS while the growth in Asia-Pacific has been significant with statistics indicating revenue from the region doubling every YoY.

Roos remarked that the Americas have been identified as the biggest potential market and IFS is exploring the untapped demand in the continent.

In addition, over 100 leading Sri Lankan firms including MAS to Singer are IFS customers.
---
SL urged to create visibility to attract global IT giants
As the local IT/BPM industry has embarked on a journey to reach US $5 billion exports by 2022, IFS CEO Darren Roos said Sri Lanka could attract more ICT sector Foreign Direct Investment (FDI) by simply creating visibility for the country's value proposition.

"I met a CEO of another software company last week. He had no idea about Sri Lanka. He was talking about Bangladesh, India, but he had no idea that competence was here in Sri Lanka. "I don't think it's an infrastructure challenge or an eco system challenge. I think it's getting known challenge," Roos stressed.

He noted that Sri Lanka's value proposition is strong to attract global IT sector giants, given the high productivity and innovation in Sri Lanka's IT sector.
Despite the potential, Ross said Sri Lanka largely remains almost invisible to global IT sector giants.
He proposed that the government should reach out to top officials of global IT firms and arrange visits for them to see the potential in Sri Lanka.

"I think it's just a business development function. If was my responsibility in the government, what I would be doing is making a list of top 500 tech firms in the world and calling them up. It's simple as that," he said.

However, Ross expects the competition for resources such as talent and office space to increase as new players enter into the IT sector.

Sri Lanka's IT/BPM sector has set a target of US $ 5 billion in exports by 2022, creating 200,000 direct jobs and launching 1,000 start-ups. By end of 2017, Sri Lanka's IT/BPM exports stood at US$1.2 billion.