---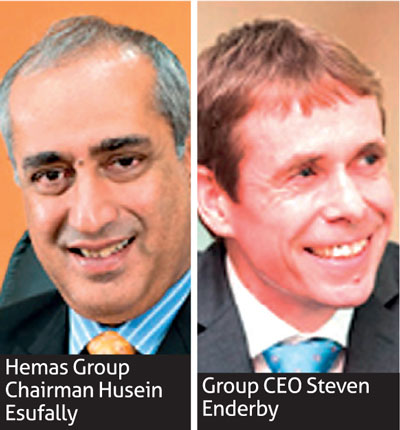 As exclusively reported by Mirror Business on Tuesday, Hemas group shipping subsidiary Hemas Maritime (Pvt) Ltd yesterday announced the company's appointment as sole agent in Sri Lanka for shipping giant Evergreen Line.
A company statement said the appointment was made through a formal tender process, for which many professional ship agency companies extended their bids. Prior to Hemas, Greenlanka Shipping Ltd, a leading logistics company in the country incorporated in 1986, operated as the sole agent for Evergreen in Sri Lanka.
Evergreen liner commenced its operations to Sri Lanka in the year 1986 and currently is the third largest mainline carrier to the port of Colombo. Sources said the shipping line is estimated to have contributed Rs.3.5 billion to the Colombo port's revenue, last year. A spokesman from Hemas said: "We are honoured with this appointment by Evergreen Lines as its agents in Sri Lanka. We will ensure that we support Evergreen to enhance its presence, using Colombo Port as its regional hub and in expanding their services through Colombo, thereby providing Sri Lankan exporters and importers greater service options for ocean freight logistics to and from Evergreen's comprehensive global network".
Hemas' shipping agency business currently functions as agents for Far Shipping, one of the largest feeder carriers servicing the Port of Colombo. The operations are complemented by the group's logistics business, which runs a container freight station, haulage business and engages in third party logistics offering.
"This appointment will also support the Hemas group's future goals of expanding in the shipping and logistics sectors enhancing Sri Lanka's maritime and logistic hub aspirations," the spokesperson said. The Evergreen Group began with the establishment of Evergreen Marine Corporation (EMC) by Dr. Yung-Fa Chang in1968, and is now one of the leading international shipping companies in terms of its fleet operations, service quality and innovative shipbuilding concepts.
It is ranked sixth globally by Alphaliner. Evergreen Line is the unified common trade name for the shipping companies of the Evergreen Group. The brand 'Evergreen Line' is used for international marketing purposes for Evergreen Marine (UK) Ltd, Evergreen Marine (Hong Kong) Ltd, Evergreen Marine (Singapore) Pvt Ltd, Evergreen International S.A, Italia Marirrima S.P.A. ,Evergreen Marine Corp.
(Taiwan) Ltd, and Greencompass Marine S.A. The company operates one of the largest container fleets in the world, with over 186 ships aggregating to 927,955 TEU. The Company has a comprehensive service network covering all major ports around the world. Evergreen has set up trans-shipment hubs in key geographic locations within its service network, including the port of Colombo.