---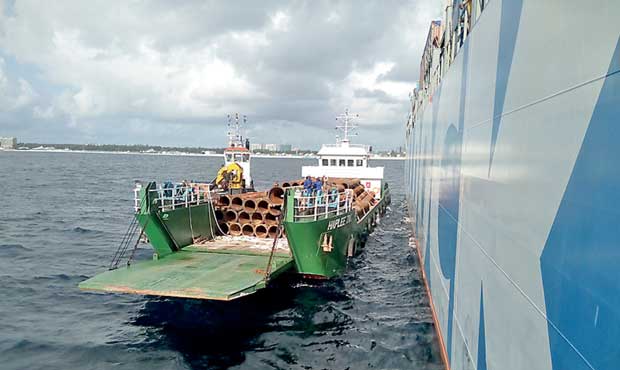 Hayleys Advantis has further solidified its position in the Maldives with the addition of two new landing craft that will further expand the range of services offered by their subsidiary, Total Transport Solutions Maldives (Pvt) Limited (TTS).

These landing craft will allow TTS to actively participate in discharging cargo midstream and make deliveries in shallow waters.

Commenting on the latest acquisition, TTS Chief Operating Officer Arosha Fernando said: "As a nation that relies heavily on imports, the Maldives would benefit from a sophisticated integrated logistics provider like TTS and as we expand our capabilities it is the Maldives that will reap the benefits.

The addition of these two new landing craft will also improve infrastructure development projects like the construction of resorts, thus helping the tourism industry grow. It is forward thinking initiatives like this that have made TTS a leading logistics service provider in the Maldives."The two landing craft are Malaysian built with 500-tonne and 325-tonne cargo carrying capacity. Each has a steel hull and twin 350 horsepower engines.

Ideally suited for shallow waters, these craft will give TTS access to islands with no proper jetties by allowing them to take cargo directly onto the beach thus removing a logistical hurdle that will vastly increase the options available to their customers.
"These new landing craft will also help us cater to a segment that requires shallow water deliveries, which will further expand our end-to-end service portfolio. The acquisition of the new landing craft was driven in part by our vision that the economic future of the Maldives is closely tied to the prosperity of the logistics industry," said Fernando.

TTS is a joint venture between Sri Lankan logistics giant Hayleys Advantis Limited and Arowana Investment (Pvt) Limited based in the Maldives. Strengthened by the wide logistics network of Hayleys Advantis, which spans across 10 countries in the Asian region, TTS plays a pivotal role in the logistics and supply chain management industry in the Maldives.

The group is also backed by the diversified blue-chip conglomerate Hayleys PLC.
---
Fisheries industry says commercial aqua farming must to achieve export target
Sri Lanka's fisheries industry, which has been given a US$ 1.5 billion annual export target by the government, is requesting policy consistency to set up commercial aqua farming, which should make up around half of the country's seafood exports to reach the target.

"The Prime Minister gave us a target of US$ 5 billion in exports. We said we have to be realistic. We then agreed upon a target of US$ 1.5 billion in exports," Sri Lanka Seafood Exporters Association Spokesman Channa Weeratunga said.

Seafood exports increased 4 percent year-on-year to US$ 170 million in 2016, according to the Central Bank, due to the lifting of the EU's fisheries ban on Sri Lanka in June 2016.
Speaking to Mirror Business on the sidelines of the 'GSP Plus: How Real Is It?' seminar organized by the Young Professionals Association of the United National Party, Weeratunga said that 70 percent of Sri Lanka's seafood exports is tuna.

"But we're losing our tuna stock rapidly," he said.

According to him, the worldwide average is for 50 percent of seafood produce to come from wild catch, and 50 percent to be sourced from farming, with some countries now starting to rely even more on farming, due to the decline of fish in the ocean.

The Central Bank also noted that 25 percent of the country's fish harvest is lost due to poor handling, the improvement of which is critical for the industry.

Due to the lack of fish in the sea to sustainably maintain export growth, Weeratunga said that commercial farming of fish, shrimp and crabs are required to reach the US$ 1.5 billion target, which he said the government requested them to achieve 'in the near future'.

"So, of this US$ 1.5 billion, we need to reach a level where 50 percent of production comes from farming, which is the global average," he said.

Central Bank data indicated that just 3 percent of Sri Lanka's fish harvest is sourced from farming, although Weeratunga said that this number could actually be even lower at 1-2 percent.

He added that the disease resistant Vannamei shrimp variety, which has a harvest of 6 tonnes per acre—compared to the current Tiger Prawn variety cultivated in Sri Lanka with a harvest of 1 tonne per acre—needs to be introduced to large scale aquaculture parks in the size of around 3,000-4,000 acres.

"We need 10 of these 3,000 acre parks to reach the US$ 1.5 billion target," he added. However, he said that due to the lack of streamlined policies the industry is facing great difficulties in even starting the first of such parks. (CW)