---
By Indika Sakalasooriya
Sri Lanka's largest international bank, HSBC Sri Lanka, yesterday said it financed over 80, 000 trade transactions to the tune of US$ 2.3 billion, last year, and is investing to transform the country's trade finance landscape by digitizing it.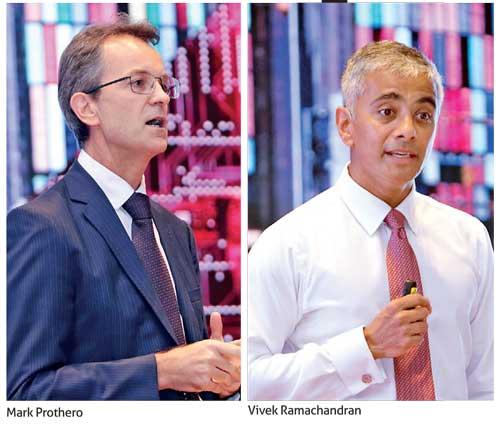 "Over the last twelve months, we have financed turnover and import-export worth US$ 2.3 billion, and we have processed over 80, 000 trade transactions. We are investing in Sri Lanka to transform trade finance by digitizing and redesigning our client journeys," HSBC Sri Lanka CEO Mark Prothero said.

Prothero was speaking at the launch of the HSBC's latest supply chain financing technology platform in Colombo yesterday, which was attended by the bank's corporate customers.
HSBC, which entered Sri Lanka or then Ceylon in 1892 to facilitate the growing tea trade at the time, has a significant market share in the country's trade finance sphere, and also is the largest financier of the apparel sector.

The new technology platform developed by the HSBC's fully owned subsidiary Serai, which is also the international lender's first non-banking technology start-up, aims to connect small and medium-sized manufacturers with component suppliers in different parts of the world, to support the bank's global trade financing push.

Some of the key benefits businesses may receive coming on board the technology platform include, faster and cheaper automated financing, optimization of working capital, reduction of supply chain costs and enhancing of supplier relationship and loyalty.

According to Prothero, HSBC with an unrivaled global presence and access to over 90 percent of the world's total capital flows, facilitates US$ 714 billion of global trade finance every year and processes US$ 1 million of trade every minute.

Explaining the rationale behind the technology platform, Serai CEO Vivek Ramachandran pointed out that technology with regard to how companies connect with each other has not fundamentally changed over the years.
"Years ago, the B2C (business-to-consumer) world got radically changed. But B2B was not impacted by technology and that is what we are trying to change by trying to build up a global platform," Ramachandran said.

With special emphasis on the global apparel industry, which is the single largest manufacturing industry in the world with millions of people employed, Ramachandran said HSBC's new supply chain technology platform would be a catalyst for the industry to march into the digital era. Illustrating the phases the production process of the global apparel industry had gone through, Ramachandran said the industry is now looking for the next wave of cheap sourcing by moving up the value curve.

"What hasn't hit the sector is technology. If you divide industries globally, the industries with the lowest digital portion—lower than agriculture—are clothing and garments.
"Labour costs are no longer going to be a comparative advantage. I would argue that the next wave that's coming into this industry is going to be the digital era," he noted.