---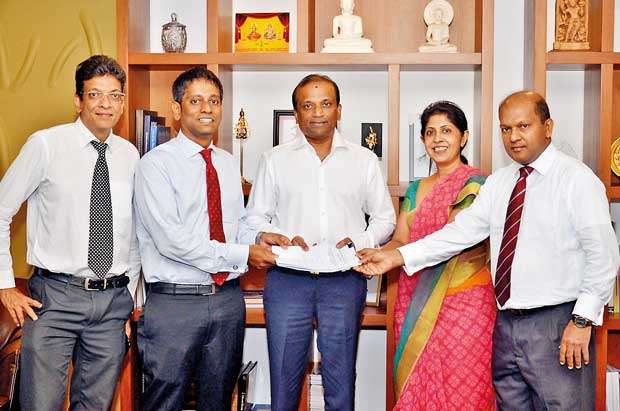 From left: Softlogic Holdings PLC Corporate Finance and Treasury Head Hiran Perera, HNB PLC Deputy General Manager Corporate Banking Ruwan Manatunga, Softlogic Holdings PLC Chairman and Managing Director Ashok Pathirage, Sampath Bank PLC Senior Deputy General Manager Corporate Banking Shashi Jassim and Bank of Ceylon PLC Deputy General Manager Corporate Banking and Offshore Banking Russel Fonseka
Hatton National Bank PLC (HNB), Sri Lanka's second largest private sector lender by assets, yesterday announced a breakthrough partnership with popular retail department store, ODEL to lead the syndication of a Rs.5.4 billion loan to fuel the expansion of its flagship store at Alexandra Place, Colombo 7.

The syndicated loan, which will cover the majority of the total cost of construction of the new ODEL Mall, amounting to Rs.9 billion, was arranged by HNB in partnership with Sampath Bank PLC and Bank of Ceylon, with each party participating equally in the loan. HNB Corporate Banking DGM Ruwan Manatunga signed off as the lead arranger together with Sampath Bank Corporate Banking Senior DGM Shashi Jassim and BOC Corporate and Offshore Banking DGM Russel Fonseka.
"HNB is a bank which is a firm believer in the power of local businesses to build internationally renowned Sri Lankan brands. Hence, it is a true pleasure for HNB to serve as lead bank to the syndicated loan that is powering the timely expansion of ODEL.
"Particularly at a time when local consumers are gradually increasing their spending while larger numbers of tourists enter the country each day, these investments by ODEL will almost certainly help to position the store as a premium destination for any lifestyle requirement, on par with the very best experiences available internationally," HNB Corporate Banking DGM Ruwan Manatunga stated.
The new development will consist of multiple floors of retail and recreational space of over 240,000 square feet that will cater to the lifestyle requirement of customers by offering activities with a range of internationally-renowned branded items and high-quality local products as well as cinemas, food courts and several fine dining restaurants, all under one roof.

The complex will be constructed as two seven-storey structures with five basement floors for parking, comprised of over 525 parking bays. The mixed-development complex will also include 39 luxury apartments on the sixth and seventh floors, overlooking the city of Colombo.

The entire range of retail products under the Softlogic umbrella, including ODEL, Softlogic Brands and Softlogic Retail, will occupy approximately 50 percent of the retail space available in the new ODEL Mall and the balance 50 percent will be rented out to a selected group of retail brands, food courts, themed restaurants and supermarkets, while P.V.R. Cinemas, India's second largest theatre operator, is already appointed to operate the seven movie theatre complex.

With a major part of the piling work completed and the appointed civil contractor already in the process of mobilizing, this landmark project is expected to be completed by 2020.

While appreciating the efforts of Sampath Bank and Bank of Ceylon in successfully achieving the financial closure, HNB Project Finance Head Majella Rodrigo elaborated that HNB's Project Finance Division has supported in arranging several large-scale syndications during the last 12 months, specially in projects associated with infrastructure development.