---
Says a decision will be reached after scientifically analysing all factors from an int'l biz perspective
SLPA Chairman says no conclusiveness in the involvement of India's Adani Group in ECT development
But points out that getting an Indian firm involved would help Colombo Port retain its lucrative transshipment biz
Says Colombo Port returned to its usual operations two weeks ago after virus hit
By Nishel Fernando
The government yesterday reaffirmed its commitment to reach a final decision on the East Container Terminal (ECT) of Colombo Port after scientifically analysing all factors related to the terminal from an international business perspective.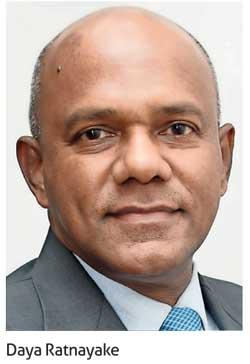 "It's not a decision we make as sentimental and emotional beings; we have to scientifically analyse all these factors. This is an international business, and shipping lines are in the core of it. We have to analyse and make the right decision," Sri Lanka Ports Authority (SLPA) Chairman General (Retd.) Daya Ratnayake told reporters in Colombo yesterday. He made these remarks in response to the overwhelming opposition by port trade unions over the development of ECT by a foreign party.

He also noted that no final decision has been taken regarding the involvement of India's Adani Group in the development of the ECT in spite of Indian media reports. It has been proposed to the Cabinet of Ministers to appoint a committee to explore the possibility of involving India's Adani group to the MoU signed between India, Japan, and Sri Lanka for ECT's operations during the previous regime.
However, Ratnayake noted that the government would analyse all the factors including the allegations levelled against Adani Group in India before arriving at a final decision.

He highlighted that getting an Indian firm involved in the Port of Colombo operations would help the port to retain its lucrative transshipment business.

Transshipment volumes account for 82 percent of container volumes at the Colombo Port, and 61 percent of these transshipment volumes are from India.

Ratnayake pointed out that the country does not require large ports to handle its trade, which averages around 1 million TEUs per annum. Hence, he reiterated that the country must learn how to entice large-scale shipping lines to attract external cargo and to develop other related industries in the country.

Meanwhile, South Asia Gateway Terminal (SAGT) General Manager-Operations Upul Jinadasa said the finalisation of ECT's way forward is crucial to sustain business in Port of Colombo.

"We want the ECT to come quickly, because what is important for us is to sustain Port of Colombo business. With the overall region growing, we have to grab that business. It doesn't belong to us, we have to be intelligent and come up with variations to grab that business related to us," he elaborated.

Meanwhile, Ratnayake stressed that Japan still remains a partner in ECT along with India.

However, he criticised the decision of the former government to seek a loan from Japan to develop the ECT as a part of the MoU.

"When we look at the context of that agreement, it was not a wise decision the Yahaplana government made to obtain a loan. There are investors who are willing to come, and they are agreeing to our conditions," he stressed.

Meanwhile, Ratnayake also noted that Port of Colombo returned to its usual operations two weeks ago, after recovering from the adverse impacts of COVID-19 second wave in the country, which led to severe difficulties at the Port.

With 400 employees at Jaya Container Terminal alone been placed under quarantine, SLPA took measures to get the support of retirees, visiting Sri Lankan expatriates and outsiders to maintain port operations smoothly.

The container throughput at Port of Colombo is expected to fall slightly below 7 million TEUs at end of this year from 7.2 million TEUs in 2019 due to pandemic-related effects.