---
Says top line hit is more pronounced at Rs.40bn if two telcos are excluded
Hotels and consumer durables sectors lead pack as hardest-hit sectors
Expects limited impact on spirits and beer as domestic consumption shields weak tourism sales
Expects firms to recoup lost growth momentum by recording higher revenues by mid-2022
Fitch Ratings has estimated that the Sri Lankan corporates rated by it could lose up to 7 percent or Rs.30 billion in revenues during the financial year ending in March 2021 from a year earlier, with the COVID-19 pandemic taking a toll on industries and businesses leaving only a few unscathed, before staging a recovery in the following year.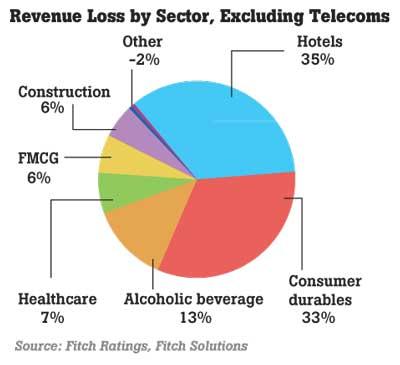 In what was the first quantitative impact assessment on the top lines of Sri Lankan corporates from the pandemic-induced business disruptions, the rating agency cautioned that more downgrades could follow if the expected recovery becomes slow but in the same vein said the opposite is possible if the recovery gathers steam.

Fitch took negative rating actions on 30 percent of the corporates in its portfolio to reflect the pandemic's effects on those entities. Majority of these entities remain on 'Negative Outlook' or 'Rating Watch Negative', which implies "the possibility of further downgrades should recovery prospects be delayed".

Fitch estimates a 1.3 percent contraction for the Sri Lankan economy in 2020, before rebounding to 4.0 percent in 2021.

"The weakened operating environment will continue to dampen demand and challenge the near-term operating performance and liquidity profiles of most of our rated corporate," Fitch said.
However, the rating agency said revision of outlook to 'Stable' is possible, if the recovery becomes faster than what Fitch expects.

According to Fitch's forecasts, Sri Lankan corporates should stage a rebound from mid-2022 and generate higher revenue than in the financial year ended March 31, 2020 but the forecast is contingent on the trajectory of the virus.

"Key risks to our assumptions include a second wave of infections that lead to further lockdowns and a prolonged weak global economic and travel environment, which could depress Sri Lanka's economy for longer than we expect," it added.

Sri Lankan corporates were seen making a robust recovery since January, helped by the falling borrowing costs and low taxes, which led to increasing consumer demand and growing appetite for investments before the outbreak of COVID-19, in mid-March.
However, the impact of the virus on different sectors remains uneven. Travel and tourism and apparel sector were and still are facing massive challenges due to the pandemic while telecommunication and pharmaceutical are remaining resilient through the pandemic.

In fact, Fitch noted that the overall top line hit to become more pronounced with an estimated 15 percent or Rs.40 billion drop in corporate revenues, if the two large telecom companies that it rates are excluded.

Among the hardest hit sectors, hotels will see the largest drop in revenues, due to travel restrictions and border closures continuing, while the consumer durables sector will also see weak revenues with muted demand through the end of the financial year. "Consumer durables demand has recovered since movement restrictions were relaxed in May but this could be partly due to temporary pent-up demand. A further tightening of restrictions on consumer-durables imports could also diminish recovery prospects for the sector," Fitch noted.

Meanwhile, the rating agency foresees a limited impact on rated spirits and beer manufacturers, due to their mostly inelastic demand, as they are mainly consumed off-premises and believes this demand could largely off-set the impaired sales, resulting from the tourism sector. "This shields sales from weak tourist arrivals and restrictions on social gatherings," the rating agency said. Meanwhile, the fast-moving consumer goods (FMCG) sector, which staged a recovery in revenue with the easing of lockdowns, will gather pace than most others, although revenue will remain modestly below last year's levels amid lower personal income, Fitch opined.