---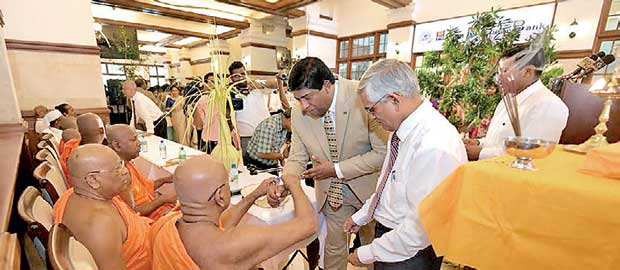 Finance Minister Ravi Karunanayake and Treasury Secretary Dr. R.H.S. Samaratunga receive religious blessings
Sri Lanka's Finance Ministry Secretary Dr. R.H.S. Samaratunga yesterday said 2017 would be a year of many challenges and the 365 days of the year should be managed properly to implement more than 325 budget proposals in 2017.
Addressing the ministry staff for the new year he said the programme 'Beginning of a Sustainable Era' that was inaugurated by President Maithripala Sirisena yesterday would be funded by the Finance Ministry and they are fully committed to achieve the targets set in the programme.
Finance Minister Ravi Karunanayake said the main objective of the government in the new year is to act with transparency, which maintains fiscal discipline.
The minister said the new government inherited a debt pile of Rs.10,900 billion but stressed his government is not ready at all to put the burden on the people.
Karunanayake said people are observing the forward march of this government therefore a substantial change would happen in the socio-economic field in the country during 2017.