---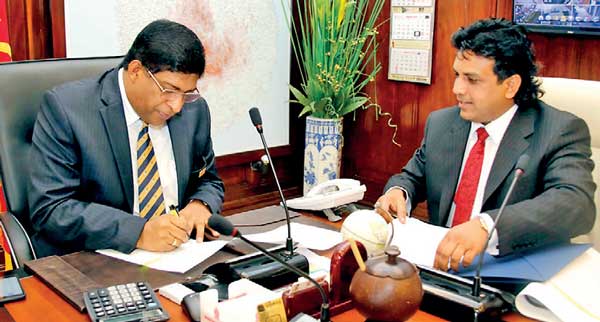 Finance Minister Ravi Karunanayake signing the agreement with ChandimaUdabage
Sri Lanka's Finance Ministry in partnership with CNBC, the world's leading business and financial news network, recently launched 'Global Opportunities Sri Lanka', a series that looks into Sri Lanka's key industries and investment opportunities.
The Global Opportunities Sri Lanka campaign will run until June 2016. Finance Minister Ravi Karunanayake and CNBC Sri Lanka Representative Office Chairman and seasoned broadcaster Chandima U d a b a g e p e n n e d t h e agreement.
A special vignette was filmed with the finance minister where he addressed the international business community about the current state of the economy and potential investment areas in Sri Lanka. Initiating this campaign on CNBC will enable people around the globe to be aware of the business culture in Sri Lanka, the current growth patterns of the economy and what the future holds.
"It is a great privilege to see our very own mother Lanka to be featured on CNBC," Finance Minister Ravi Karunanayake said. He also mentioned that after the new government had been elected, this was the first international television campaign done to project Sri Lanka on a global platform and attract the international business community.
A CNBC press release stated that the content aims to inform the network's affluent and investment-savvy audience across Asia Pacific about the potential and risks of investing in Sri Lanka. CNBC Asia Pacific Vice President Sales Kerry Tarrant said, "We are excited to partner with the Ministry of Finance Sri Lanka.
This partnership enables CNBC to bring actionable insights about Sri Lanka's economic landscape to our audiences. This is made possible through the partnership CNBC has forged with the Ministry of Finance Sri Lanka." The Global Opportunities Sri Lanka special reports will air daily on CNBC APAC from April 25 to 29, 2016 on Squawk Box Asia.
Squawk Box Asia airs Monday to Friday, 7:00 a.m. to 10:00 a.m. SG/HK time, 10:00 a.m. to 1:00 p.m. SYD time. CNBC was launched on February 24, 2015 in Sri Lanka and made available to Dialog TV subscribers on Channel 41.