---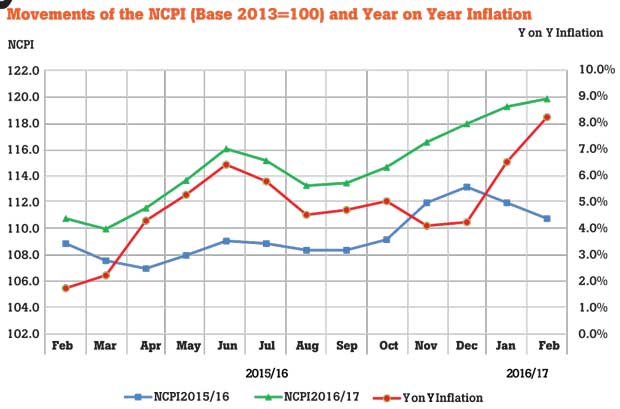 The food and non-food prices measured by the national consumer price index surged 8.2 percent during the 12 months to February 2017, jumping from 6.5 percent from a year ago, the data released by the statistics office showed.
According to analysts, this should prompt the country's monetary authority to act fast to avert a possible overheating of the economy. National consumer price index measures the countrywide inflation, a broader reflection of price movements than the Colombo Consumer Price Index (CCPI).
The main culprit for the steeper increase in consumer prices was the food prices, which rose by 0.31 percent between January and February.
The increase in coconut prices was the sharpest during February as the price of a nut shot up to Rs.75 to Rs.80 during this period from around Rs.40 to Rs.50 a couple of months ago.
Vegetables recorded the next highest increase in prices while the coconut oil prices also rose.
The prices of rice came down as a result of imports by the government and selling them at controlled prices.
However, on a Year-on-Year basis food prices rose by 0.7 percent in February, down from 1.8 percent increase in January 2017 due to base effects.
The prolonged drought, the worst in four decades, has had severe impact on the country's food prices as the cultivation has become difficult during this period.
The indications are such that the situation could get much worse during the coming months as only 35 percent of cultivable rice paddy land had been farmed by the end of November 2016—the lowest level in 30 years, Ministry of Disaster Management and World Food Programme said recently.
The International Monetary Fund (IMF) last week asked the Central Bank to stand ready to tighten the monetary policy further unless inflation and credit conditions showed some abatement.
Meanwhile, the non-food prices also rose albeit at a lesser pace driven by the increase in tuition fees, cost of servicing vehicles and house maintenance cost.
The higher value added tax appears to have pushed up the prices of these categories.
The moving average inflation for February 2017 also picked up to 5.1 percent from 4.6 percent in January 2017. Earlier, the Census and Statistics Department released data showed the headline inflation measured by the Colombo Consumer Price Index for February 2017 rising to 6.8 percent Year-on-Year accelerating from 5.5 percent in January 2017.
The core inflation rose by 7.1percent Year-on-Year in February from 7.0 percent in January 2017.
Sri Lanka is getting ready for the Sinhala and Tamil New Year in April, which is the largest festival celebrated by the majority Sinhalese and the Tamil community. The prices naturally tend to increase during this season due to demand factors.