---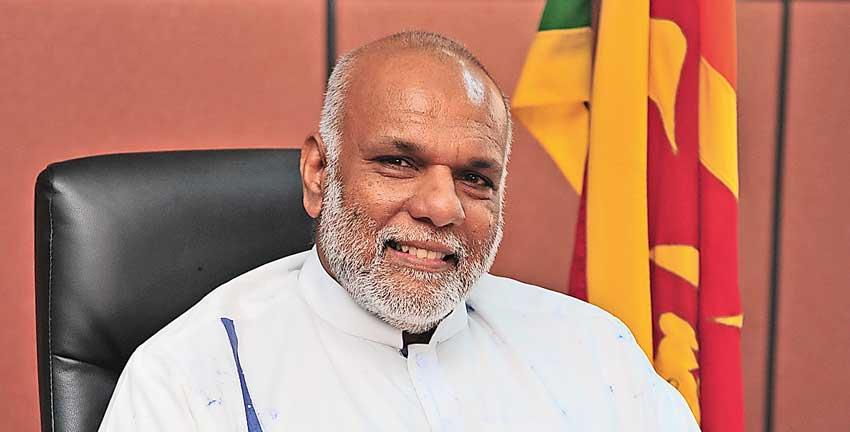 Suresh De Mel
Nov. export earnings fall 21% to US$ 747mn, third lowest so far this year
Apparel & textile exports declined by 33% YoY to US$ 325mn
Agriculture exports, except tea records higher export incomes
Cumulative merchandize export earnings for the 11-month period fell 17% to US$ 8.98bn
Services exports in Jan.-Nov. period estimated to have fallen17% to US$ 2.86bn
EU remains as SL's top export region accounting for US$ 2.88bn of merchandise export earnings
EDB says 88% of this year's export target achieved and exporters should be proud of the performance in the prevailing crisis
Sri Lanka's merchandise export earnings suffered for the second consecutive month in November due to the adverse impact of the second wave of COVID-19 pandemic that began in early October, which slowed down manufacturing and disrupted port related activities.

In November, merchandise export earnings slumped by record 20.97 percent Year-on-Year (YoY) 2020 to US$ 747.58 million compared to US $978 million in November last year, Sri Lanka Customs data showed.

The November merchandise export earnings figure is also the third weakest seen so far this year.

"Reduction recorded in October exports due to the COVID-19 outbreak in Sri Lanka, which has had a direct impact on our manufacturing and export facilities also continued in November 2020," the Export Development Board (EDB) said.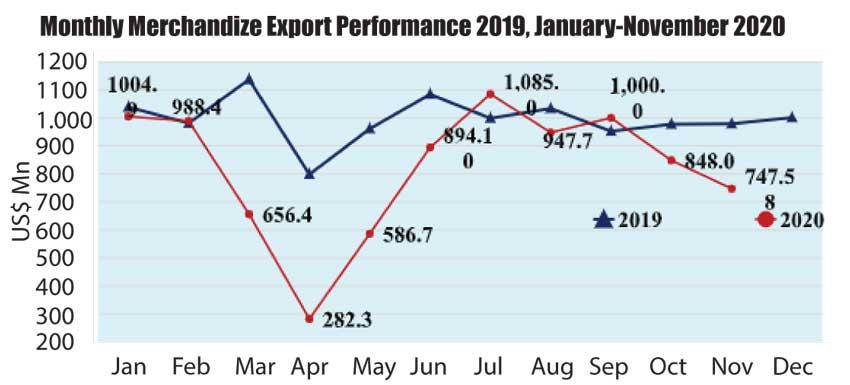 The export earnings from apparel & textiles declined by 32.75 percent YoY to reach US$ 324.92 million in the month, compared with US$ 483.17 million recorded in the preceding period.

On a Month-on-Month (MoM) basis, export earnings from apparel & textiles declined by 8.86 percent in November in comparison to October this year. However, export earnings from personal protective equipment (PPE) related products grew by 47.42 percent to US$ 807.63 million during the 11-month period compared to US$ 547.85 million recorded in the corresponding period of 2019.

Tea, which made up of 12 percent of merchandise exports, contracted by 5.17 percent YoY to US$ 96.21 million in November. When compared to the tea export figures in October, tea export earnings recorded 14.21 percent decrease in November.
However, EDB noted that export earnings from other key agri-based products continued to grow during the month.
In November, export earnings from rubber & rubber-finished products grew by 12.66 percent YoY to US$ 69.57 million driven by enhanced performance in exports of pneumatic & retreated rubber tyres & tubes and industrial & surgical gloves of rubber.

Similarly, export earnings of coconut based products increased by 23.26 percent YoY to US$ 56.92 million.
Further, export earnings from spices and essential oils rose by 40.64 percent YoY to US$ 34.02 million in November due to the improved performance recorded in exports of cinnamon (10.16 percent) and pepper (88.10 percent).

Meanwhile, export earnings of electrical and electronic components (EEC) declined by 11.71 percent YoY to US$ 25.42 million in November, even though export earnings recorded 24.06 percent growth in November compared to October.

The cumulative merchandize export earnings for the 11-month period of the year stood at US$ 8.98 billion, indicating 16.81 percent YoY decline, compared to US$ 10.8 billion recorded during the same period of last year.
The services exports estimated by EDB, which include ICT/BPM, construction, financial services and transport & logistics showed 16.85 percent YoY decline to US$ 2.86 billion for the period of January to November 2020 compared to US$ 3.44 billion recorded in the corresponding period of the previous year.

During the period, the European Union (EU) remained as the country's top export region accounting for US$ 2.88 billion of merchandise export earnings despite a decline of 11.67 percent YoY.

Similarly, the United States was the second largest importer of Sri Lankan goods during the period, generating US$ 2.26 billion in export earnings despite 20.62 percent YoY decline.

According to EDB's latest revised export target, it estimates US$ 13.39 billion in overall export earnings for the year including US$ 9.57 billion from merchandise exports and US$ 3.82 billion from services exports.

"During the period January to November 2020, earnings from exports recorded US$ 11.84 billion including the estimated services data for July to November which is a 88.47 percent achievement from the revised export target of US$ 13.39 billion set for 2020.

"Therefore, our resilient export community and all employees in the export sector should be admired for this remarkable performance in the prevailing crisis situation in the country and globally,"EDB, Chairman Suresh De Mel said.