---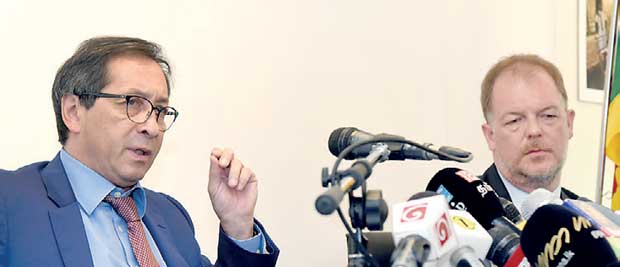 EU Ambassador to Sri Lanka and the Maldives, Tung-Lai Margue and Political, Trade and Communications Section Head of EU Delegation to Sri Lanka and the Maldives, Paul Godfrey
Pic by Samantha Perera
By Chandeepa Wettasinghe
Sri Lanka must start diversifying its exports portfolio immediately to make use of the handful of years the country will remain eligible for the European Union's Generalized System of Preferences Plus (GSP Plus) preferential duty programme, EU diplomats in Colombo said yesterday.
"Start diversification of exports now. GSP Plus will allow you to export new products, not simply traditional products, because it would be more competitive to do so." EU Ambassador to Sri Lanka and the Maldives Tung-Lai Margue told reporters in Colombo a day after Sri Lanka successfully navigated the GSP Plus application process.
Central Bank data shows that Sri Lanka has not managed to maintain a sustainable export diversification programme for the past 10 years, except for some success in spices.
Political, Trade and Communications Section Head of EU Delegation to Sri Lanka and the Maldives, Paul Godfrey said, some products that Sri Lanka has the potential to export successfully to the EU include cinnamon, pepper and other spices, fruits, and other food products sourced organically with Fair trade certification.
"There is a market for meat, but Sri Lanka doesn't export meat in large quantities," he added.
Margue noted that in terms of services exports, Sri Lanka currently has nothing much to contribute to the EU market, although the country's IT sector may become competitive enough in the future.
He said that some traditional exports to the EU such as apparel, rubber products, small machinery, fisheries and tea could continue to gain market share with GSP Plus.
"However, for small and medium sized businesses, it could be difficult to overcome technical obstacles, and the standards demanded by the EU consumers," he said, and added that this is why the EU recently started a 8 million euro project to help boost SME exports to EU standards.
Godfrey added that if the Sri Lankan government shows commitment towards boosting exports of specific industry areas, the EU could arrange for similar programmes to help bring them to standards fit for exports to the EU.
After regaining GSP Plus, the effects of which will come into force this Friday, Sri Lanka can enjoy duty free access to the EU market, except for 13 items, most of which are agricultural goods for which production is still weak in the EU, requiring protection, according to Godfrey.
The EU absorbed US$ 3.1 billion worth of Sri Lankan exports in 2016, or 30.1 percent of the country's total exports, up from US$ 3.02 billion in 2015, which accounted for 28.7 percent of the total exports in that year.
Margue said that with GSP Plus, Sri Lanka will gain an immediate annual tariff benefit of 300 million euros, although, benefits from increased trade would push the benefit above 1 billion euros annually in the longer term.
Sri Lanka lost access to the facility in 2010 over allegations of human rights violations during the latter part of the 30-year civil war that ended in 2009. Remaining eligible for GSP Plus requires recipient countries to show continuous commitment to implementing 27 international conventions on human and labour rights and environmental concerns.
Margue said these international conventions are now apply to Sri Lanka and the Sri Lankan government should show commitment towards them
"There's still too many incidents of torture for instance, we know there's still too many forced into marriage, that there's still laws that discriminate against sections of Sri Lankan society, just to name a few," he said.
He noted that the EU will conduct biannual monitoring sessions starting from January 2018 to ascertain whether Sri Lanka remains committed to implementing the 27 conventions, and that a roadmap will be created following discussions with the government to set targets.