---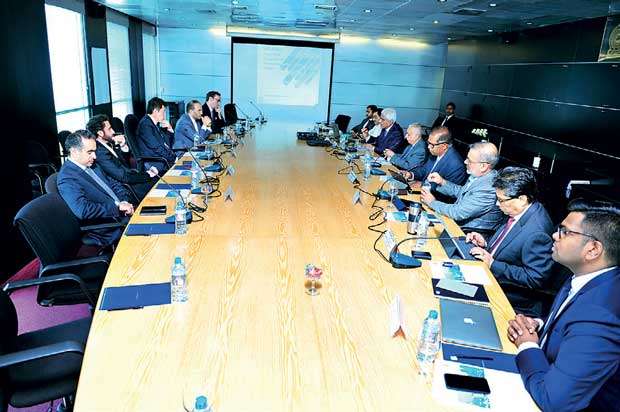 Roundtable investment forum in progress
A group of high-profile investors based in Dubai met Development Strategies and International Trade Minister Malik Samarawickrama for a special roundtable investment forum organised by the ministry and Board of Investment.

The five-member delegation was here on the invitation of the minister to explore investment opportunities in the country.

During their roundtable forum, they met with the Central Bank governor, officials from the Megapolis project, CHEC Port City Colombo, SriLankan Airlines, Sri Lanka Tourism Development Authority and Southern Development Board.

During their visit, they visited the potential tourism projects in Kandy and the South. They also met Prime Minister Ranil Wickremesinghe at dinner at Temple Trees and invited him to visit Dubai.

The delegation was headed by Mohammed I. Al Shaibani, who is Investment Corporation of Dubai Executive Director and CEO, Dubai Islamic Bank Chairman, Dubai World Board Member and World Expo Dubai 2020 Committee Deputy Chairman.
The other members of the delegation included Midas International Asset Management Founder and Chairman and Investment Corporation of Dubai Senior Advisor Dr. Soonyoung Chang, Deira Waterfront Development LLC Executive Chairman, Dubai Aerospace Enterprise (DAE) Ltd Managing Director and Investment Corporation of Dubai Deputy Chief Executive Officer Khalifa Hassan Al Daboos, Al-Ghurair Group of Companies CEO and Dubai Chamber of Commerce Chairman Majid Saif Al Ghurair and One&Only Resorts President and CEO and Emaar Hospitality Group LLC Former CEO Philippe Georges Zuber.