---
The GSMA, the worldwide association governing the global mobile industry, on Wednesday named Dialog Axiata PLC Group CEO Dr. Hans Wijayasuriya Sri Lanka, as the recipient of the 'Outstanding Contribution to Asian Mobile Industry Award for 2016.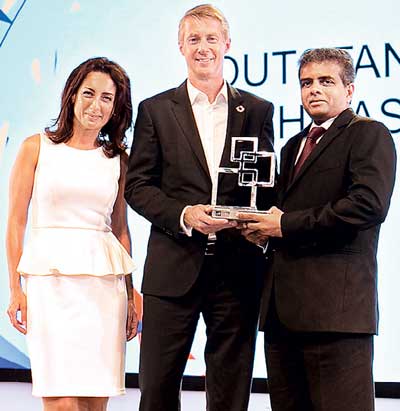 The award as described by the GSMA "is the highest honour at the Asia Mobile Awards 2016. The award recognises sustained and extraordinary contributions by individuals, organisations or collaborative achievements that advance the value and benefits of mobile communications for people, business and societies in Asia".

Dr Wijayasuriya received the award at the Asia Mobile Awards held in Shanghai China, becoming the very first recipient of the award which is being awarded for the first time this year. Delivering his citation leading up to the naming the 2016 recipient of the award, Mats Granryd, Director General of the GSMA said: "This year's recipient is honoured for his extraordinary personal leadership, as well as his company's unwavering support for the collaborative ideals of the GSMA over the last two decades.

This award recognises a 22-year career in the industry, including 19 years as leader of a dynamic mobile network that remains on the cutting edge of innovation. This CEO has earned enormous respect among his peers in the region, first as Chair of the GSMA's Asia Pacific Interest Group in the formative years of GSM technology. He has also lead his company to win 6 Global Mobile Awards competing with the best in the industry.

Under his leadership, his company has propelled Sri Lanka's mobile infrastructure to a position of regional leadership and a level of advancement on par with the developed world. This CEO has, through a consistent commitment to purpose, brought together the power of GSM technology, Sri Lankan talent and the prowess of a regional telco group, Axiata, to deliver an indelible contribution to country and region."

Dr Wijayasuriya dedicated the award and accompanying international recognition to the Dialog team, the company's 10.5 million over Sri Lankan customers and key institutional stakeholders.

"The Dialog Team has proven that Sri Lankan talent is second to none across the globe and together with our valued customers and partners, are principal contributors toward this recognition. Equally, we are indebted to the Government of Sri Lanka for the progressive policy environment espoused with respect to ICT advancement, and to the Axiata Group for its consistent and committed investment in Sri Lanka's ICT infrastructure over the past two decades.

The contribution of many such stakeholders have made it possible for Dialog to reach a position of leadership on the region's telecommunications landscape," he said, soon after receiving the award.