---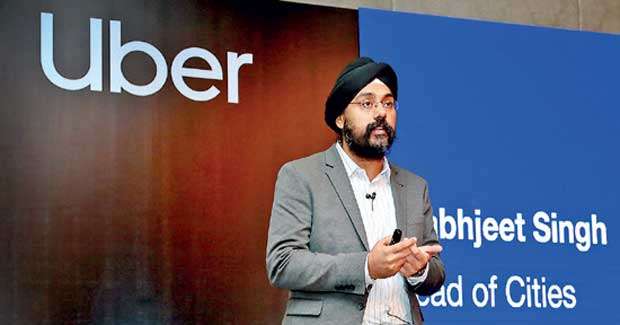 Prabhjeet Singh
Colombo becomes 11th most important city in South Asia for Uber

By Nishel Fernando
Colombo has become the fastest growing market for UberTuk product and is on the way to become the Tuk capital of Uber universe, a top Uber official said.
"Today, the growth of UberTuk product in Sri Lanka is one of the fastest, making Sri Lanka, the fastest growing market for UberTuk product on the Uber platform. Sri Lanka and Colombo is on the way to become the Tuk Capital of Uber universe," Uber - India & South Asia, Head of All Cities, Prabhjeet Singh, said.
He was speaking at an event organised by Uber in Colombo this week to mark the three-year anniversary of Uber's entry to the Sri Lankan market.

Uber launched UberTuk last August in Sri Lanka and Singh highlighted that the product has been embraced by both riders and drivers overwhelmingly.
"We were blown away by the kind of feedback we got where thousands of drivers are joining the platform every week," he remarked. UberTuk was launched in several cities in India, Pakistan, and South- East Asia and most recently in Mombassa, Kenya.

Singh also revealed that Colombo has become the 11th most important city in South Asia for Uber where it has seen over 25,000 driver partners joining the Uber platform in the three-year period.

Prior to the launch of UberTuk, Uber officials revealed that around 60,000 riders were using Uber on a monthly basis in Sri Lanka. Since Uber's exit from Southeast Asia, India and South Asia has become the most important market for the company in the Asia-Pacific region. According to Singh, Uber has completed over 10 billion trips since its launch, and South Asia has contributed to over a billion trips.

Speaking of future prospects, Singh noted that Uber plans to multiply the number of driver partners over the next couple of years in Sri Lanka, particularly female drivers from the current 35 plus driver partners, to cater to the even increasing demand.
"There are not only female driver partners, who are driving cars; there are also multiple women Tuk driver partners on the platform. Our commitment is to grow this number by multiple folds over next few years," he said.

He further noted that with the launch of Uber Hire and Uber Intercity, Uber products have gone beyond Colombo and that the company is committed to expand its services across the country in coming years.

Singh asserted that Uber aims to become the preferred ridesharing company in Sri Lanka for riders and driver partners by enhancing last mile connectivity through a multi-platform approach.

"It has been a journey which has been nothing less than spectacular. Sri Lanka as a country and its residents and driver partners here welcomed Uber with an overwhelming response over last three years, which has left us humbled and inspired to make sure that we are constantly improving ourselves to stay relevant and to serve all residents in Sri Lanka and the tourists who visit this beautiful country," he added.

Uber has launched six products in Sri Lanka—UberZip, Premier, Intercity, Hire, UBerTUK and UberGo.