---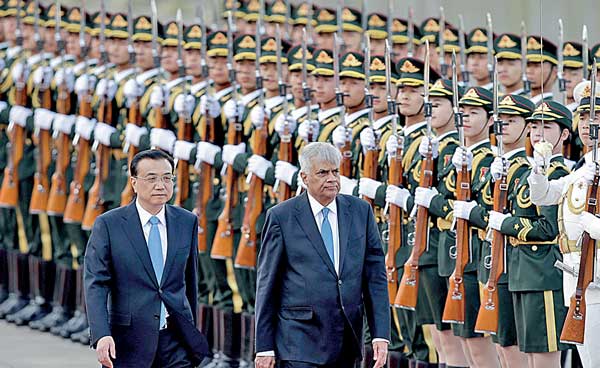 REUTERS: China and Sri Lanka are both determined to push forward with a stalled port project in the Sri Lankan capital Colombo, a senior Chinese diplomat said yesterday following a meeting between the two country's premiers. Sri Lanka ordered a review of the US $1.4 b i l l ion Colombo port city project last year, c i t i n g i r r e g u l a r i t i e s in the award of the contract to state-owned China Communications Construction Company (CCCC) by a previous government.
L a s t m o n t h , the Sri Lankan government, grappling with a difficult economy, ordered the Chinese firm to resume work on the port city, the island nation's single biggest foreign investment project, that includes apartments, shopping malls and marinas. But CCCC, which had estimated that the shutdown would result in losses of more than $380,000 a day, has sought compensation of US $125 million, according to the Sri Lankan government, which has said it can't pay and wants to negotiate.
Xiao Qian, head of the Chinese Foreign Ministry's Asia department, told reporters following a meeting between Sri Lankan Prime Minister Ranil Wickremesinghe and Chinese Premier Li Keqiang in Beijing that the project was an important one.
"On the Colombo port, both sides agreed to further speed up the overall and comprehensive resumption of work on this project. The announcement to resume the work has been made by the Sri Lankan side but now we will go into further technical details," Xiao said. "This is an important project and both countries have a strong desire to further enhance and advance this project. On the Chinese side, we hope to see the earliest possible resumption.
We believe we won't have to wait too long." He made no mention of the compensation issue, only that Sri Lanka had promised to protect the rights of Chinese companies and foster a sound environment for Chinese investors. Wickremesinghe, in remarks in front of reporters, said only that he would be looking to finalise an agreement for future bilateral cooperation. Asian giants India and China are both vying for influence in Sri Lanka. China has built roads and ports on the island that India has long seen as its area of influence. Sri Lanka has sought to balance ties with China and India under President Maithripala Sirisena. Both Sirisena and Wickremesinghe have visited India seeking investment, but the pace of Indian activity on projects is slow, offering China a chance to gain ground.