---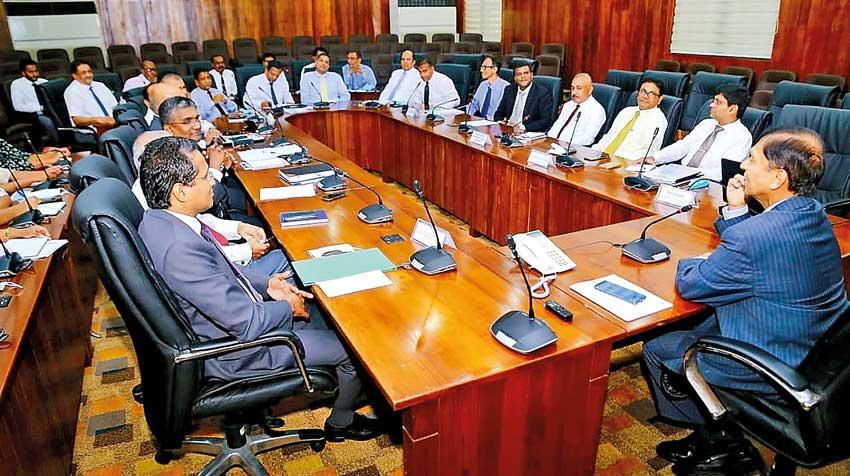 State Minister Cabraal during his interaction with SEC and CSE officials
Meets SEC Commissioners and CSE Board for first time
Calls for specific goals for the market with timelines
To meet again in a month's time to evaluate progress
State Minister of Finance, Capital Market Development and Public Enterprise Reforms Ajith Nivard Cabraal yesterday told Sri Lanka's capital market officials to think "out of the box" to develop the island nation's capital market.

Cabraal said this during his first interaction with the Commissioners of the Securities and Exchange Commission (SEC) and Board of Directors of the Colombo Stock Exchange (CSE) at the Finance Ministry, last evening.

Explaining his role as the Minister of Capital Market Development, Cabraal noted that it was the first time in history such a portfolio was created, which, according to him, is a strong indication how keen the new government is to have a dynamic and buoyant capital market.

He urged SEC and CSE officials to have specific, ambitious but realistic goals for the market with timelines, aligned with the government's vision. He asked SEC and CSE officials to look at certain markets in the Asian region for inspiration.

He also welcomed the increased local investor participation in the stock market in recent times, which he said is a testament to confidence the people have in the government of President Gotabaya Rajapaksa and Prime Minister Mahinda Rajapaksa.

Following Cabraal's remarks, CSE Chairman Dumith Fernando made a presentation on the future plans of the Colombo bourse, which touched upon five key points including market liquidity, capitalisation and foreign investment.

Fernando's presentation was followed by SEC Chairman Viraj Dayaratne's remarks on current market developments and the efforts taken towards digitization of the capital market activities.
The meeting, which went on for about two hours ended with plans to meet again in a month's time to evaluate the progress of the measures taken by the SEC and CSE to develop the market.