---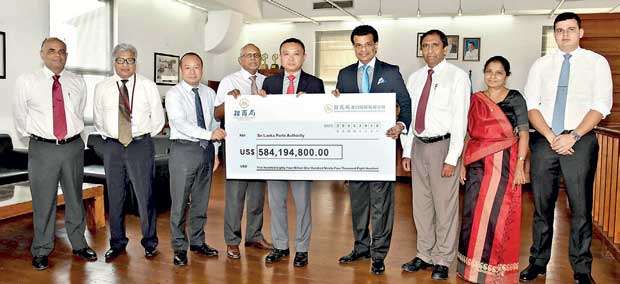 From left: SLPA Executive Director A.S. Wickramasinghe, CICT Legal Counsel Mohan Wijesinghe, CICT CEO Jack Huang, HIPG COO Tissa Wickramasinghe, China Merchant Group Sri Lanka Chief Representative Ray Ren, SLPA Chairman Dr. Parakrama Dissanayake, SLPA Additional Managing Director A.D.T. Gunasekara, SLPA Director Finance Shirani Wanniarachchi and Shipping and Ports Minister Mahinda Samarasinghe's Private Secretary Sean Samarasinghe
China Merchant Port Holdings Limited (CM Port) yesterday released the final tranche of the Hambantota port lease payment, the Sri Lanka Ports Authority (SLPA) said.
The cheque to the effect was handed over to SLPA Chairman Dr. Parakrama Dissanayake by China Merchant Group Sri Lanka Chief Representative Ray Ren, in the presence of senior port officials and CM Port representatives.
This makes the single highest ever foreign direct investment received by Sri Lanka to date.
The tranche amounted to US $ 584.2 million follows the first and second tranches released in December last year and January this year, which amounted to US $ 292 million and US $ 97 million, respectively.
With this payment, CM Port fulfils the US $ 976 million investment value one of the port concession and in terms of the concession agreement, CM Port has agreed to deposit a further sum of US $ 146 million, being investment value two, to be utilized for port and marine-related activities.
In view of the urgent need for viable and efficient operation of the Hambantota port, the SLPA and Government of Sri Lanka entered into the concession agreement with CM Port in July last year, for management, operation and development of the Hambantota port on a public-private partnership model.
On December 9 last year, two Sri Lankan companies established under the concession agreement namely, Hambantota International Port Group (HIPG) and Hambantota International Port Services Co. (Pvt.) Ltd (HIPS) officially took over the Hambantota port, thereby making the concluded concession agreement effective.
"CM Port is one of the most successful global companies in the ports sector and its investment in the Port of Hambantota can be described as a credible vote of confidence in its potential as well as in the economy of Sri Lanka," SLPA Chairman Parakrama Dissanayake said.
The two companies established in Hambantota plans to invest an additional US $ 400-600 million on phase I and II of the Hambantota port, an SLPA statement said.