---
CB cuts policy rates by 50 bps aiming to boost economic growth over 4% this year
Says although market lending rates have come down, rate of decline decelerating
Dismisses inflation fears saying December spike was due to food inflation
Private credit grows 4.4% in December; By Rs.58bn in absolute terms
Expects private sector credit growth to recover to 13% this year
Says policy rate cut would help banks to reduce cost of funding
By Nishel Ferando
In an unexpected move, the Central Bank (CB) yesterday slashed policy rates by 50 basis points to facilitate faster decrease in interest rates with the aim of boosting subdued economic growth to over 4 percent this year despite concerns over recent uptick in inflation.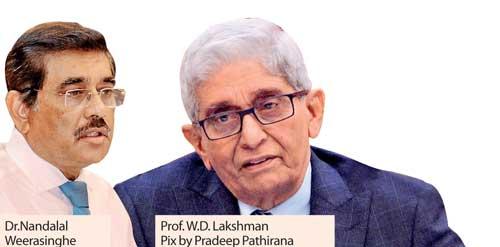 The general expectation was that the Central Bank would hold rates given the ample space for market lending rates to come down without further adjustment to policy rates.

"We intended to affirm our accommodative monetary policy stance and also to ensure further reduction in cost of funds borne by financial institutions. Although, market lending rates are on a declining trend, there are several indicators that the rate of decline is decelerating," CB Governor Prof. W.D. Lakshman said.

Accordingly, the Monetary Board of the CB, which met on Wednesday, decided to reduce the Standing Deposit Facility Rate (SDFR) and the Standing Lending Facility Rate (SLFR) by 50 basis points to 6.50 percent and 7.50 percent, respectively, with effect from January 30, 2020.

Dismissing concerns of a policy rate cut amid rising inflation, which rose to 6.2 percent YoY in December, Prof. Lakshman said the acceleration of inflation would be short-lived as it was driven by food inflation while core inflation decelerated.

"On the inflation front, recent acceleration of inflation has been a concern. However, several factors suggested that acceleration of inflation is going to be short term.
The acceleration was caused by food inflation rather than overheating of the economy," he added.

The CB forecast inflation to remain around 5 percent this year.

Although, market lending rates adjusted downwards following the imposition of deposit and lending rate caps on banks, the CB pointed out that the pace of reduction has decelerated recently.

"With the removal of caps on deposit interest rates offered by banks, new deposit rates have increased since September 2019. Yields on Treasury bills have trended upwards at recent auctions. If not addressed, these trends could result in an undesirable turnaround in market lending rates," the CB stated.

Hence, CB Senior Deputy Governor Dr. Nandalal Weerasinghe noted that policy rates would help banks reduce their cost of funding to bring down the Average Weighted Lending Rate (AWLR) to 12.5 percent by March.

Sri Lanka's private sector credit growth picked up by 4.5 percent YoY in December compared to 4.4 percent YoY in November indicating signs of recovery.

In absolute terms, credit expanded by Rs. 57.9 billion in December from Rs. 47.1 billion in November.

In 2019, private sector credit expansion significantly slowed down to Rs.249.7 billion compared to Rs.761 billion in 2018.

Similarly, broad money growth (M2b) also accelerated to 7 percent YoY in December from 6.1 percent YoY in November.

"Revival in confidence, revival in economic activities, fiscal measures, credit relief package and declining interest rates helped to sustain the credit growth of banks," the CB said.
The CB expects private sector credit growth to recover to 13 percent YoY this year.

Although, the CB projected an economic growth exceeding 4 percent for the year, Dr. Weerasinghe noted that the CB hasn't assessed the potential impacts of the Coronavirus outbreak, which is expected to negatively impact the local economy, particularly the tourism sector.

"It's premature for us to estimate an impact without knowing how long it will last. A similar incident happened during the SARS outbreak. We will look at the impact of that and will try to come up with an assessment. However, it's difficult to quantify the impact," he added.

The CB estimates that Sri Lanka's economic growth to have slowed down to 2.6 percent in 2019.