---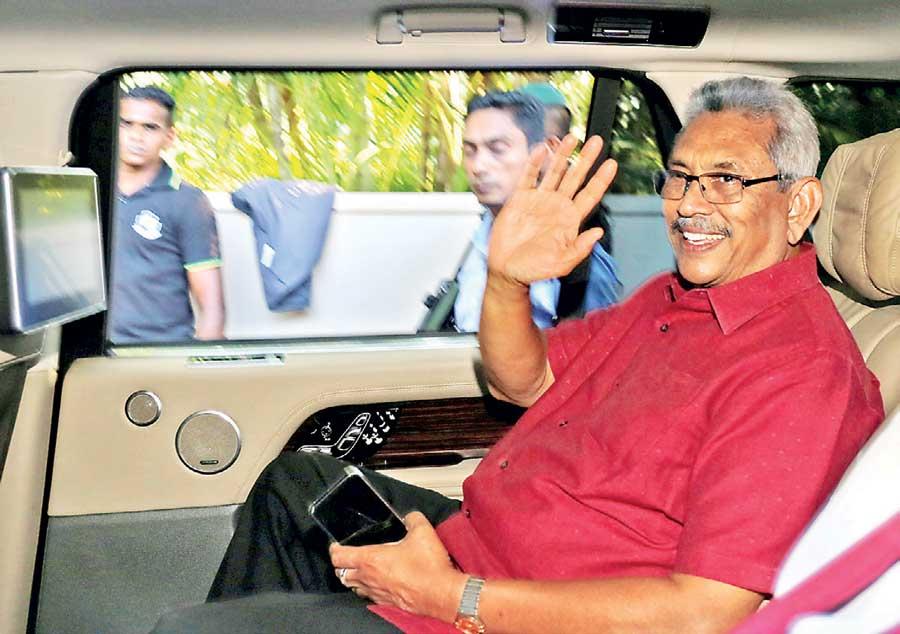 President-elect Gotabaya Rajapaksa waves at his supporters as he leaves his house in Colombo. (Reuters photo)
By Nishel Fernando
Capital market analysts expect the Colombo bourse to climb upward in the short to medium-term following the fairly convincing win of Sri Lanka Podujana Peramuna (SLPP) presidential candidate Gotabaya Rajapaksa, who appeared to be the preferred choice of the country's business and investment community.

However, for the long-term sustainability of such an upward momentum, in particular to lure in foreign institutional investors, they opined that expediting capital market reforms, including the Securities and Exchange Commission (SEC) Act, which has been stalled during past few years, remains vital.

"There will be an initial spike in the market, and as the week progresses we feel there will be bit of profit taking as well. We are expecting the All Share Price Index (ASPI) to rise to 6, 500 index points by mid next year and to 7, 000 index points by year-end, mainly based on the lower interest rate environment, picking up of consumer demand coupled with political stability coming into the picture after a long time," First Capital Head of Research Dimantha Mathew said.

ASPI closed at 6, 023.02, 0.72 percent or 43 points up on Friday.

Softlogic Capital Markets Chief Executive Officer Danushka Samarasinghe noted that a 1, 000 point gain in ASPI is quite possible during short-term. In the short-term, market activities are likely to be driven by retail investors while local high net worth investors are expected to join the rally in 3-6 months, according to Mathew.

With an anticipated recovery in consumer spending, buying into stocks of consumer related firms are expected to increase.
Further, banking stocks also set to become attractive due to smart valuations and anticipated credit growth.
However, Samarasinghe opined that there will be a broad market-wide recovery, pointing out that the outcome of the presidential election provides the much needed trigger point for market players.

Some analysts opined that foreign investors would start entering into the bourse from the first quarter next year, as they may adopt a 'wait and see' approach until the parliamentary election is concluded next year and the new government presents its policy framework formally.

The CFA Advocacy Chair/ Director Ravi Abeysuriya stressed that structural reforms are required to sustain these short to medium-term gains while attracting foreign intuitional investors.
"The structural reforms didn't move ahead during past 4-5 years. The new SEC Act never came in. We have to bring new products into the market. Reforms in particular are needed to attract intuitional investors.

"For example, what we were looking forward to have is a properly structured Central Depository System (CDS) addressing a major concern of foreign investors," he elaborated.

Abeysuriya noted that both supply and demand sides of the market have to be improved to attract foreign investors.

He further said policy changes of the new government are also set to influence CSE activities.