---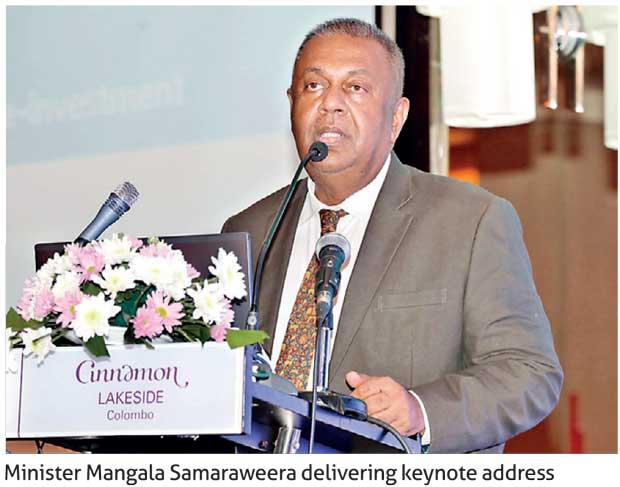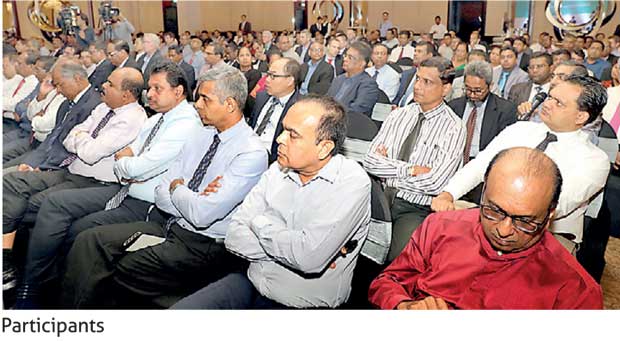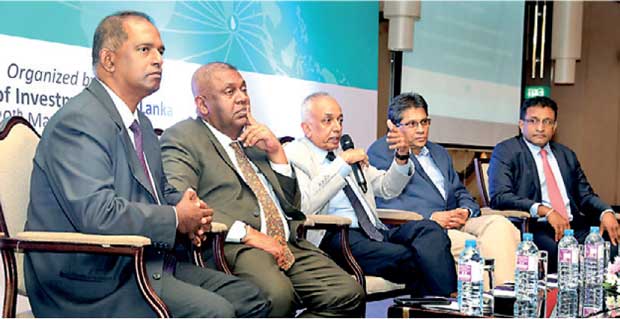 From left: Dumindra Rathnayake, Minister Mangala Samaraweera, Minister Malik Samarawickrema , Mangala Yapa, Duminda Ariyasinghe
The Board of Investment held the "Investor Facilitation and Networking Event" at the Cinnamon Lakeside Hotel recently, to engage in a dialogue with investors who have re-invested in Sri Lanka.

By confirming their trust in Sri Lanka and in the Board, these investors had sent a very positive message to potential investors both in Sri Lanka and overseas.
At the event, the audience which consisted of nearly 200 existing investors who had opted to reinvest in the country were addressed by the Chief Guest Mangala Samaraweera, Minister of Finance and Mass Media, Malik Samarawickrama, Minister of Development Strategies and International Trade, Dumindra Rathnayake Chairman of the Board of Investment of Sri Lanka, Duminda Ariyasinghe, Director General of BOI, and Mangala Yapa Board member of BOI.

The meeting was interactive and an excellent dialogue was established between the BOI and the investor community.

In recent times the Board of Investment of Sri Lanka has identified existing investors as a major potential source for future investments in the country.

In fact what is known as expansions (ie the decision on the part of a BOI investor to further invest) has become a major share of the actual investments handled by the BOI.

One of the main reasons that this important group can be encouraged to invest in projects is that they are already familiar with the business environment of the country and their experience in Sri Lanka has been positive and beneficial. Hence they are agreeable to reinvest in the country.

There are many reasons why existing investors can be helpful to the BOI's effort to promote the country as a preferred destination for investment.
Existing investors may be considered brand ambassadors with a very clear understanding of the business environment and with considerable knowledge of the most attractive reasons for setting up projects in Sri Lanka. Existing investors can therefore be a powerful voice in Sri Lanka's favour.

Furthermore, many existing investors have an extensive network of contacts and for that reason the BOI currently works very closely with them to attract more investment in the country. If an investor, especially a foreign investor who has set up a reputed business speaks in Sri Lanka's favour, this represents a strong voice in favour of investment in the country.
However a major reason why investors have decided to reinvest in Sri Lanka is due to the commitment of the Government including the BOI to create a more business friendly and conducive environment.

Hence more investor-friendly mechanisms being set up to fast track the approval and implementation of projects are additional reasons and the fact that there are currently more opportunities to invest in new areas. Also new liberalized laws covering the foreign exchange regime, simplified taxation laws that reduce upfront costs and efforts to improve facilitation are also important considerations. The BOI itself plays a role of facilitating investors and has increased its meetings with line agencies to resolve the issues while unresolved issues are taken up at various committees for speedy resolution.

Existing investors are therefore aware of this extensive effort at 'hand holding' and the facilitation service that the BOI offers investors has without any doubt made it more likely to encourage existing investors decide to invest rather than an outsider who may not be fully aware of the advantages available in Sri Lanka.

The BOI strategy in that respect is to identify specific targeted sectors for reinvestment and then actively promote it with the investor to expand his/her investment.
In addition, the BOI has been engaged in facilitation which includes identifying new lands for new Zones to channel the investor to that location. Furthermore a promotion strategy has involved focusing on Sri Lanka's comparative advantages and including economic strengths, knowhow and the competitiveness of strong as well as soft assets. This in turn will help promote existing emerging exporters and target investments and knowhow from abroad.

The reinvestment strategy of the BOI focuses mainly on developing the manufacturing sector which is the main target with a strong emphasis on attracting electronics, industrial machinery, automotive, electrical equipment, food products and pharmaceutical to name just a few.

Furthermore, reinvestment is also sought in services which are also promoted including IT and software development, BPOs, tourism and education.

Another attraction for the existing investors is the establishment of new Export Processing Zones under a budgetary allocation of Rs. 2.5 billion. These new zones will be located at Bingiriya, Mawathagama, Milleniya and Charlimount (Matara)

BOI has also set up a new reinvestment team which has identified several activities that will encourage reinvestment. Firstly this would include communicating with companies which are known to be pleased with investing in Sri Lanka as well as some of the largest investors in term of the value of investments, exports or employment generated.

Another consideration of the reinvestment team of the BOI is to encourage new investors like their suppliers or partners in the supply chain to invest by using the good offices of existing investors.

Companies which belong to the BOI priority sectors such as manufacturing and services are goodwill ambassadors for the promotion of investment in Sri Lanka.
Furthermore since there is a plan to make the country a global hub with a strong emphasis on logistics companies which are interested in being part of the global value chain are widely encouraged to expand their operation in Sri Lanka in the future.

These are the many reasons why the BOI's programme to encourage reinvestments offers considerable potential for future investment in Sri Lanka.