---
The monies that are expected from the sale of national assets belonging to the Sri Lankan people will be collected in a separate account maintained at the Central Bank and the proceeds will only be utilized to repay the mounting foreign debt, the country's Central Bank said.
Central Bank Governor, Dr. Indrajit Coomaraswamy, told a recent forum in Colombo that Sri Lanka's debt challenge is more severe next year than this year's.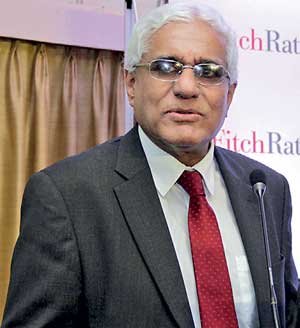 Under its liability management programme, the current government has listed multiple public assets to be divested, partly or fully, to get rid of the massive debt burden they inherited and further piled up during the last two years.
"So, what the government wants to do in relation to that is to set up a separate account at the Central Bank and the proceeds from the divestment of the public assets to foreigners will be placed in this account and earmarked specifically for liability management of external debt", Dr. Coomaraswamy told Fitch Rating's 'Sovereign and Banking Forum' held last week.
The Sirisena-Wickremesinghe coalition, which came to power accusing the previous Rajapaksa administration of plunging the country into a debt trap, is now entangled in a much deeper crisis with record foreign borrowings during the last 30 months.
Despite the borrowings, the government has failed to continue with the debt-funded infrastructure drive initiated by the Rajapaksas.
In fact, it has now transpired that the Finance Ministry had allegedly camouflaged the real debt figure for 2016 to paint a rosier picture, which only came into light when the country's Auditor General refused to state that the Finance Ministry accounts showed a true and fair picture of the
country's finances.
Dr. Coomaraswamy meanwhile said the moneys from public asset sales would be utilized to settle the short-term debt.
This is akin to a private organization using the proceeds from the sale of its long term-fixed asset, which have the revenue generating capacity in the long run, to settle short-term bank overdrafts as it is trying to avoid bankruptcy. Hence, this act demonstrates the deep state failure and the near-bankrupt status of the national economy.
Dr. Coomaraswamy exactly a month ago expressed his confidence over the sale of the Hambantota port, while expressing optimism over the divestment of other public assets such as the airport in Mattala, Srilankan Airlines and government's interests in hotels and hospitals.