---
By Nishel Fernando
Sri Lanka's largest aluminium extrusion manufacturer, Alumex PLC, a subsidiary of the Hayleys group, on Tuesday announced aggressive plans to sharply increase its aluminium extrusion exports to 10 percent from the current 2 percent and to tap into the local residential housing market with a marketing strategy to capture 50 percent share in the window and door market.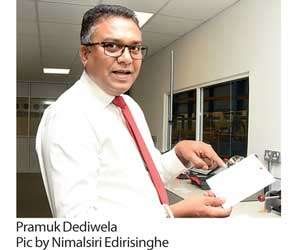 Alumex recently unveiled Sri Lanka's first fully-automated, front-loading aluminium extrusion plant and South Asia's first vertical powder coating facility with patented SAT Travisan CUBE Technology, in Ekala, Ja-Ela, with an investment of Rs.2 billion.

The plant can produce 1,000 MT in aluminium extrusions and powder coating per month, doubling Alumex's current overall production capacity to 2,000 MT.

Addressing a press conference yesterday at its Ja-Ela factory premises, Alumex PLC Managing Director Pramuk Dediwela said that with the commissioning of the new production facility, the production capacity of Alumex is increased to 24,000 MT per annum, outpacing the local demand of aluminium extrusions, which currently stands at 15,000 MT per annum.

However, Dediwela noted that the local demand for aluminium extrusions is estimated to be growing at a rate of 20 percent per annum despite a decline seen in the demand for aluminium products in the construction industry during the latter part of 2017.

He said he remains optimistic that the future demand for aluminium extrusions will be further accelerated with the construction activities of the Colombo Port City and Megapolis projects in
the near future.
Dediwela also said that Alumex plans to export high-end, exclusive, branded aluminium extrusions to markets in the SAARC region and Seychelles.

He further revealed that Alumex plans to set up two dealerships and distribution centres in India, one in Nepal and another in the Maldives.

In addition, Alumex is also evaluating the feasibility to commence a production operation in the South Asian region under the Alumex brand in the long term.

Dediwela was also confident of bringing down Alumex's cost of production equivalent to the levels in the Middle East and Europe by 2020, to become more competitive.

"However, the government's taxation structure is the problem. We have 7.5 percent Port and Air Port Development Levy, 2 percent NBT and the cess is running into 5 percent," he pointed out.
The high electricity prices and lack of infrastructure facilities also add up to the cost of production.
Meanwhile, Alumex is preparing to popularise the use of aluminium extrusion profile designs in the residential housing industry, where the new housing requirement remains at 55,000 per annum, which remains as a new growth avenue for aluminium extrusions.

Although the commercial construction industry uses aluminium extrusions extensively for interior and exterior walls, cladding, windows, doors and partitioning, etc. the aluminium extrusion profile designs are currently not widespread in the residential housing industry in Sri Lanka.

Alumex has already set in motion a strategy to tap into the growing luxury housing market with a new product range under the 'Lumin' brand.

Dediwela noted that the new brand has become the fastest growing brand in the Alumex portfolio.
He said that the prices of class three timber windows is almost equivalent to aluminium extrusion windows while a teak door remains more expensive than an aluminium door, which would offer a good value proposition for consumers.

"We are trying to change the perception of aluminium and to popularise aluminium among the public. We want to convert 50 percent of window and door market to aluminium in three years," he said.

Alumex plans to launch a marketing campaign to popularise the usage of aluminium extrusions in mid and low-income housing units.

Dediwela noted that a new product line would be offered to these markets at competitive pricing.
Alumex also plans to commission another plant in five years, once the current capacity is utilised.
Billionaire businessman Dhammika Perera-led Hayleys PLC and Vallibel One PLC account for over 75 percent of Sri Lanka's aluminium extrusion market. Alumex has a 45-46 percent market share while Swisstek (Ceylon) PLC, a subsidiary of Vallibel One PLC, has 30 percent market share.