---
Group revenue down by Rs.7bn to Rs.5.5bn
Tourism sector revenue plunges to Rs.187mn
Says strong pick up in biz in June except tourism
Diversified conglomerate, Aitken Spence PLC, which has extensive interests in travel and hospitality business, saw its June quarter (1Q21) revenues and profits eroded by the economic malaise created by the COVID-19 pandemic, though the group said it saw a strong pick up in business in the month of June,
barring tourism.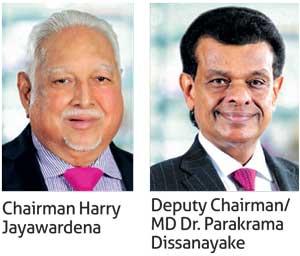 The group saw its revenue falling by Rs.7 billion in the quarter under review to Rs.5.5 billion from a year ago as its tourism sector revenue plunged to Rs.187 million from Rs.4.5 billion recorded in the corresponding period last year—which was affected by the Easter Sunday attacks in April, last year— feeling the full brunt of COVID-19 lockdowns and border closures.
The group owns and manages hotel and resort properties in Sri Lanka, Maldives, India and Oman. The tourism segment's pre-tax loss widened to Rs.2.8 billion in the quarter
under review.
As a result, the group reported negative earnings of Rs.3.72 per share or Rs.1.5 billion for the quarter under review compared to earnings of 53 cents a share or Rs.216.7 million for the corresponding period of the previous year. "Resilience was seen in the group's diversified business portfolio and strategic direction, particularly in integrated logistics, plantations, elevator agency, insurance and money transfer services that was commendable amidst unprecedented challenges," a press release issued by Aitken Spence said.

It noted that the group's maritime & freight logistics sector performed remarkably under challenging conditions to deliver a profit-before-tax (PBT) of Rs.459 million.

Aitken Spence said most companies within the maritime and freight logistics sector, operated continuously without disruption during the quarter under review with increase in profits from the integrated logistics segment and airline cargo division of 58 percent and 71 percent respectively over the last year.

"Another outstanding sector performance was recorded by the elevator agency, insurance, money transfer segments in the services sector recording PBT of Rs. 96 million," the press release stated.

The strategic investments sector of the group recorded a loss of Rs. 42.4 million for the three months under review due to foreign exchange translation losses arising from the strengthening of the rupee by nearly 2 percent during the quarter, although the plantations segment recorded an excellent performance with a growth in profit of more than 350 percent over the previous year and the power generation segment also making a noteworthy contribution to profits.

"Despite challenging times, we are pleased to be seen in the forefront of showcasing business resilience. I express my deep gratitude to our Chairman and Board of Directors for their guidance and strategic direction. I also wholeheartedly thank our Spensonians for their unstinted commitment and dedication especially during these turbulent times," Aitken Spence Deputy Chairman and Managing Director Dr. Parakrama Dissanayake said.

"Aitken Spence is a company that has proven that our strength is in our diversity and we are confident that business will bounce back, and our efforts will continue to this end," he added.Aitken Spence Chairman Harry Jayawardena-controlled Melstacorp PLC and Rubicond Enterprises Limited have over 66 percent of the issued shares of the company while Employees' Provident Fund has 5 percent stake as the third largest shareholder of the company.