---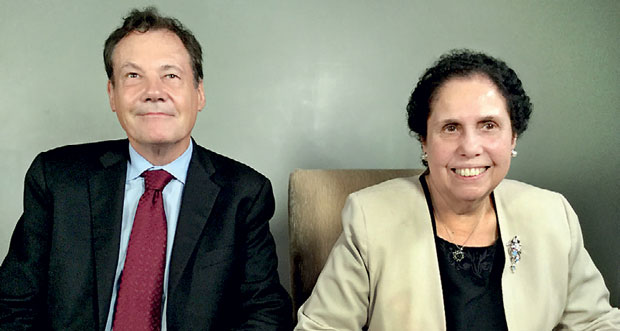 Prof. Geoffrey Jones and Aban Pestonjee
Abans Founder Chairperson Aban Pestonjee was invited to be interviewed by Prof. Geoffrey Jones, Faculty Chair of Harvard Business School's Business History Initiative, on the topic of 'Creating Emerging Markets'.

The two-hour long video interview was a sit-down discussion between Prof. Jones and Pestonjee and was conducted at Sapphire Room of Taj Mahal Palace Hotel in Mumbai.

The full transcript of the interview will be kept in the archives of the Harvard Business School's Baker Library and will become part of the library's Historical Collection and 'Creating Emerging Markets' website. It will be available to students for research and case studies. The interview, which received comments of wide acclaim from those present at the recording, covered many topics such as 'The process of innovation in the business', 'The acquisition of international technologies', 'The role of family', 'The issue of succession', 'The recruitment of professional management', 'Relationships with government, NGOs and international organisations', 'Responsibility for society and natural environment' and 'Challenges and opportunities of globalization including globalizing brands'.
The phenomenal success of Abans from a small retail shop selling used home appliances to the market leader in electronics and household appliances with 30 independent companies in diversified fields of business and services and a network of over 400 showrooms, dealers and service centres islandwide, is a remarkable achievement.

Abans newest venture is the multi-billion rupee Colombo City Centre, a mixed development project on Sir James Peiris Mawatha, Colombo 2, overlooking the picturesque Beira Lake, in collaboration with Singapore's SilverNeedle Hospitality.

The Harvard Business School is the graduate business school of Harvard University in Boston, Massachusetts, USA and is one of the world's most prestigious business schools from which global corporate leaders receive their MBAs and doctorates.