---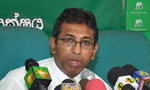 The main opposition UNP yesterday charged that the government had adopted a fraudulent approach of hiding the borrowings made by various state institutions from the 2015 budget.
UNP National List MP and Economist Dr. Harsha De Silva told a news conference that expenditures pertaining to projects done using funds generated from foreign borrowings made by a number of ministries and borrowings made by state institutions from private banks were not going to be shown in the budget this year.
Citing an example the UNP MP said according to budget estimates 2014 only Rs 1.8 billion had been borrowed for the proposed Weressa Ganga Park project in Bellanwilla though the estimated cost had been of Rs 14 billion. Accordingly Dr. De Silva alleged that that this amount had not been shown in the consolidated account. "This was the case last year and the case is going to be the same in the budget 2015 as well," Dr. De Silva said.
He said this was done according to the line of thinking by the government that state borrowings includes only the borrowings made directly by the Sri Lankan government and not the borrowings made by the state institutions. This he said was made clear by a statement which Central Bank Governor once made that external borrowings are only the borrowings made by the Sri Lankan government directly and not the borrowings made by state institutions.