---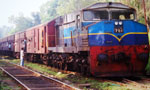 A 20-year-old man had been knocked down and killed by a train plying from Maradana to Fort railway station last night.
Police said the Batticaloa bound train from Colombo was travelling to the Fort railway station from Maradana railway yard when the accident had occurred.
The victim was identified as Prasath Dilshan, a resident of Galgamuwa.