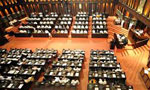 The ruling coalition has reached consensus on the proposed constitutional amendment that will primarily seek to introduce a dual executive system of governance and on the re-instating of the independent commissions, political sources said yesterday.
The proposed formula will be presented in Parliament early next month to be discussed with the main opposition.
A special committee, comprising President Maithripala Sirisena, Prime Minister Ranil Wickremesinghe and representatives of other parties including the Tamil National Alliance (TNA), the Jathika Hela Urumaya (JHU) and the Janatha Vimukthi Peramuna (JVP), has worked out these constitutional proposals.
In the event that these constitutional reforms are enacted, President Sirisena will remain as the Head of State, but with reduced powers. He will retain the defence portfolio and the power to appointment provincial governors and on several other subjects including that of appointing the heads of Sri Lanka's diplomatic missions abroad.
According to political sources, the Prime Minister will be the Head of the Cabinet thus making it a dual executive system of governance.
The appointment of members to the independent commissions will be done by a committee comprising the Speaker, the Prime Minister, the Opposition Leader, five members nominated by the Prime Minister and the Opposition Leader, and the representative nominated by minor parties. In this exercise, the Prime Minister and the Opposition Leader will be authorized to appoint their five nominees based on Sri Lanka's professional and social diversity, rather than on ethnic diversity.
A similar system existed under the 17th Amendment to the Constitution. But, it was scrapped with the enactment of the 18th Amendment.
(Kelum Bandara)