---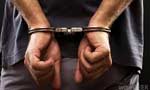 A married man who was employed as an executive of a private company was caught red-handed by his wife while honeymooning with a 24-year-old woman at a star class hotel in Colombo today.
The man, a father of two, had married the rich 24-year-old directress of another private company. He had allegedly paid a woman to pose as his mother.
His wife, an account of a private hospital in Colombo, with the assistance of several others had barged into the hotel where the newly-wed had been honeymooning and had caught them red handed. The couple was handed over to the Mirihana Police.
It was reported that the 24-year-old woman had not known that the man was married until his wife had barged into the hotel room. It was also reported that the family of the new bride had spent about Rs. 700,000 for the wedding ceremony.
(Srinath Prasanna Jayasuriya)