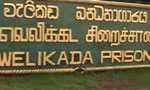 Senior Superintendent of Prisons Anura Ekanayake, who was in charge of the Welikada Prison, had been transferred to the Prisons Headquarters with immediate effect, Prison officials said today.
Sources said Mr. Ekanayake was transferred due to allegation of providing special treatment to the General Secretary of the Bodu Bala Sena Ven. Galagoda Atthe Gnanasara Thera, who is in remand custody at the Welikada Prison Hospital on charge of contempt of court.
The Thera was transferred to the Welikada Prison Hospital from Colombo Remand Prison due to a sudden illness on Wednesday (27) evening.
However, Prisons Spokesman T.N. Upuldeniya said Senior Superintendent Ekanayake was transferred only due to the service requirements.
He said Superintendent Chandana Ekanayaka of the Prisons Training School had been transferred to the Welikada Prison in place of Anura Ekanayake.
Meanwhile, Superintendent Anura Ekanayake said he had not received any letter confirming the transfer and denied the reports of favouring Ven. Gnanasara Thera.
"It's true that the Prison Hospital is also under my administration but I never even get to see the Thera let alone facilitating special treatments to him," he said.
(DS)