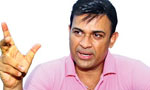 Rizana Nafeek, the young housemaid who was executed in Saudi Arabia could have been saved if the current government was in power in 2013, Deputy Social Empowerment and Welfare Minister Ranjan Ramanayake said today.
He said the appropriate measures taken by "Yahapalana" government had saved the life of the Sri Lankan woman who was to be stoned to death in Saudi.
"If the country had the current government back then, or the former UPFA government had adopted the proper legal measures, we could have saved Rizana back then. The former government didn't ask for support from powerful countries or take suitable legal measures in the previous case," he said at a media briefing.
On account of the appeal made by the Foreign Affairs Ministry and the Foreign Employment Ministry, the Saudi Arabian Al Dawadmi Court had commuted the sentence of the Lankan woman who was to be stoned to death, he said.
He described the present case as a sensitive issue and said the current government had dealt with it in the proper manner.
(Yoshitha Perera)