---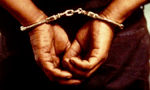 A former LTTE Intelligence Unit member Sri Skandarajah alias Nidiyawan was arrested last night by the Terrorist Investigation Division (TID) at his home in Sambalthivu, Trincomalee.

The TID said 38-year-old Nidiyawan had fled the country to Qatar during the last stages of the armed conflict in 2009.

He is alleged to have led terrorist attacks in Sambalthivu, Sampur and Nilaveli.

It is believed that he had returned to the country recently under a false name. (Amadoru Amarajeewa)