---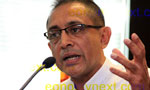 As pledged at the January Presidential election campaign, General Elections should be held when the 100-days programme was concluded, the United National Party (UNP) said today.
UNP General Secretary and Minister Kabir Hashim said their party was prepared to face an election and added the UNP was committed to hold the elections as pledged.
"It would be better if we are able to go for the election under a reformed and new election system. But the election should be held with or without the reforms of the election system. Those who demand the delay of the election only want to take time and cover-up their misdemeanors and corruption," he told a news conference held at Sirikotha today.
He said the present government was a National Unity Government but not a UNP government.
"If the election was not held as promised, we would take it to the streets demanding the elections," he said.
(DS & LP)