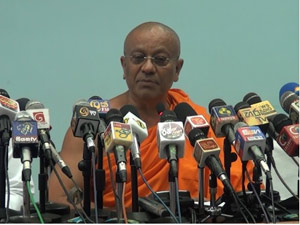 Some people were trying to spread false rumours that the last rites of the Ven. Maduluwawe Sobitha Thera were not being conducted according to the Thera's last wishes, said the Maha Sanghanayaka of Sri Jayawardenapura, the Ven. Meegahatenne Chandrasiri Thera.
He told the media today that the Ven Sobitha Thera had not described in writing how he would like his funeral to be conducted, though he had made certain remarks regarding the subject in his sermons from time to time.
"Some people are trying to sling mud at the government by saying that it is organising a full scale state funeral, whereas the thera's wish was that he should be buried within 24 hours. If that were the case, the funeral should have been held in Singapore.
"But since there was no written record of his wishes, we, his colleagues and disciples, had to decide how it should be conducted," he said.
Local Government Minister Karunaratne Paranavithana said that, considering the Thera's significant contribution towards creating a just society, the government had decided to conduct his funeral with full state honours.
(Kurulu Koojana Kariyakarawana)