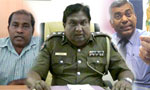 The Commissioner of the Human Rights, Dr. Prathiba Mahanamahewa said today that the 17-year-old schoolboy, who was arrested over the rape and killing of five-year-old Seya Sadewmi, was the victim of a grave injustice.
He said the student could complain to the Human Rights Council and also take the matter to court.
"The rights of the 17-year-old boy have been violated by his unjustifiable arrest. Police may arrest people as long as there is sufficient evidence against them. The arrest of the student raises the doubts as to whether he was arrested after due investigation," he said.
He said the police had said one reason for the arrest was the presence of pornographic material on his laptop. If this is so, many others should have been arrested for keeping pornographic material with them, he said.
Dr. Mahanamahewa said that, as a country which is a signatory to the Convention on Child Rights, Sri Lanka is bound to protect reputation of children. "No mental or physical harm should be done to children. The arrested student will face many obstacles on his release," he said.
He also criticised some media reports which attempted to portray the student as a criminal and said it was time for the media to rectify their errors. "The student can also complain to the press council," he said.
Meanwhile, the Lanka Teachers' Union Secretary Joseph Stalin condemned the rape and killing of the girl and said the police treatment of the suspects in custody was unacceptable.
"As soon as the suspects were arrested, the police acted as if the suspects had already been convicted. They accused the schoolboy of using ganja and said they found pornographic material on his laptop. This is completely wrong. Any suspect is innocent until proven guilty," he said.
He said the police had acted without responsibility and asked how the 17-year-old bot who is an A/L student could return to school or face his parents and peers. "One precious life has already lost and another life is being subjected to police injustice," he said.
Mr. Stalin said immediate action should be taken, to produce the student in court to ascertain whether he is guilty or not. "If he is guilty he should be punished and if not should be released immediately. Justice delayed is justice denied," he said.
However, Police Spokesman SSP Priyantha Jayakody said the court will take appropriate action on the two suspects who are on remand.
"They were arrested and produced in court in order to conduct medical tests on them and to obtain DNA samples. These are required to determine if they match the foreign matter found on Sadewmi during the postmortem," SSP Jayakody said.
He said the necessary laboratory tests were being carried out and Court would would base its decision on the analytical reports.
(Sanath Desmond and Lahiru Pothmulla)