---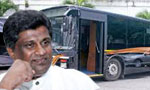 Deputy Foreign Affairs Minister Ajith P. Perera said today that no use could be made of the two super luxury coaches found abandoned in the Ministry premises.
"Those two coaches were not brought for the use of the Foreign Ministry and we intend to sell these in the open market for a good price. But there was a difficulty in finding persons who could use these coaches" he said.
The present government and other officials cannot make the use of these coaches, so we use these coaches for tourism until such time as we can sell them.
We are not like the previous government to use the country's assets for the advancement of one family, we are not like them and we will take the necessary legal action at the right time.
(Chaturanga Pradeep)