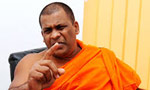 Bodu Bala Sena (BBS) General Secretary Ven. Galagodaatte Gnanasara Thera today called for a Sanghadikaranaya - a special court to hear cases of Buddhist monks.
He expressed these views outside the Colombo Fort Magistrate's Court where a case was filed against him on defaming the Quran.
"We haven't committed any crime. It's not like we have killed someone, raped anyone or robbed anyone. These charges had been levelled for defending the Sangha and the dates of the cases keep extending. We have so many invasive forces in the country today which are against Buddhism. But it seems even the Mahanayakas are silent on these matters. That's why we need a Sanghadikaranaya. It's high time that we do away with worn out British laws," the Prelate said.
Meanwhile, Ven. Watareka Vijitha Thera, whose news conference was obstructed by Gnanasara Thera, said no charges had been filed so far by the police against the prelate though it has been two years since the incident.
"However, we are happy that at least we have a country free of criminals today. I hope justice will be served immediately," the Thera said.