---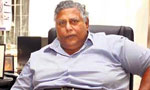 Veteran industrialist and motor racing enthusiast Dr.Nihal Jinesena has passed away on February 2 at the age of 75.
At the time of his demise he was the Chairman of Lalin Michael Jinasena & Company and was one time the Chairman of Sri Lanka's largest value added rubber exporter Loadstar, previously a joint venture between Jinasena group and Belgium's Solideal group.
Jinesena group was founded by Dr.Nihal's grandfather, C. Jinesena in 1905.
Under Dr.Nihal's father T.S.Jinasena, the group diversified into production of water pumps. Jinesena name was synonymous with Centric water pumps, the first ever locally manufactured water pump in the country.
After his studies in the UK, Dr.Nihal returned to Sri Lanka and took over the family business with his three brothers and gradually made it a conglomerate which had over 17 companies under its umbrella until the four brothers decided to split up the assets of the group in 2009.