---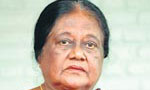 Award winning actress, playwright, directress and theatre educationist Somalatha Subasinghe passed away this morning at the age of 79.

Ms. Subasinghe who made outstanding contributions to children's and youth theatre, has gifted the children of Sri Lanka with many beautiful creations which has taught lessons of love, friendship and compassion.

In her illustrious career, she has worked with dramatists like Gunasena Galappaththi, Ranjith Dharmakeerthi, Dhamma Jagoda, Namel Weeramuni, Henry Jayasena and others and also served as a teacher and actress for quite a long period. She was exposed to children's theatre in countries like England, France and Czechoslovakia following a semi scholarship accorded to her by the UNICEF.

On the film front, her roles in Siribo Ayya, Madol Duwa, Viragaya, Thilaka Saha Thilaka and her tele drama portrayals in Ella Langa Walawwa, Gamperaliya and Suba Anagathayak were exceptional.

She was married to well known civil servant and diplomat Lionel Fernando while her daughter Kaushalya Fernando and son in law Chandana Aluthge excel in the stage scene.

Her funeral will take place at the Borella General Cemetery tomorrow evening.