---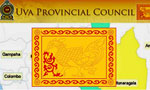 Taking a dig at the Uva Provincial Council's decision to adjourn session till January 15, a resolution was passed at the Embilipitiya Urban Council on Friday (28) to issue woolen clothes to the Chief Minister and the ruling party members of the Uva Provincial Council.

The Uva Provincial Council announced on Thursday November 27 that it would no sit until January 15 due the "cold weather condiitons".

UPFA member Vijitha Punchihewa who tabled the motion at the Embilipitiya UC said that the thousands of ordinary people in the Uva Province including schoolchildren, janitors, sanitary labourers in the towns, estate workers and those affected by earth slips and floods were not feeling it cold.

"However the ruling party members of the provincial council are affected by the cold weather," he said.
He said the UC must help them and provide whatever assistance to supply them winter garments and other outfit to protect the UPC members from cold weather.

The UNP member Lasantha Siripura seconded the motion and it was unanimously passed by the council of five UPFA members and two UNP members.

The meeting was presided over by chairman Wewelduwe Gnanprabha Thera (UPFA). (Ajith Lal Shanthaudaya)