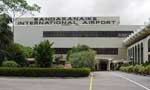 An attempt to enter the apron of the Bandaranaike International Airport, Katunayake by an armed airline staff member bewildered the airport security personnel today until he exposed himself to be a decoy sent to check the security parameters.
The Civil Aviation Authority deployed a decoy armed with a hidden dummy gun to conduct a random security test of the security levels at the BIA.
The decoy had a dummy weapon tied to his leg was detected by the Airport Security officials at one of the access control points leading to the apron of the airport where all flights taxi.
Upon inquiry the man in the guise of an airline staff had identified himself and to be a decoy sent by the CAA.
When contacted, Director General CAA H. M. C. Nimalasiri said such tests were conducted randomly to make sure the security levels of the airport was upto the international airport security standards.
Head of Aviation Security P. A. Jayakantha said that all the senior officials of the airport security and SriLankan Airlines had been prior informed about the decoy and the weapon he carried was a dummy.
The test was carried out at 10.05 a.m. and the decoy was detected at 11.05 a.m., way after President Maithripala Sirisena, who returned to the country around 8.25 a.m. today.
(Kurulu Koojana Kariyakarawana and T. K. G. Kapila)